The National Scrabble team led by the NSF President, Garba Gora successfully defended her 'Best Scrabble Team' trophy at the third edition of the WESPA Championship held in Goa, India. The Nigerian team had previously won the title at the inaugural WESPA championship in 2015 and successfully defended it at the last event in 2017.  Also, Nigel Richards (New Zealand) overcame stiff opposition from Jesse Day (USA) 4-3 in a gruelling seven-round final to join Jighere Wellington (2015) and Ashkay Bhandakar (2017/defending champion) as winners of the World English Scrabble Players Association (WESPA) Championship.
Nigeria Dominate Pre-Tournament Goa Open and the Indian Championship
Team Nigeria started brightly despite their late arrival to the tournament due to funding issues. At the 1-day pre-tournament (Goa Open) held on Wednesday 16th November, Nigeria's Emeka Mbagwu won the top prize, while Ojior Oshikhena and Jack Mpakaboari were first and second runners-up respectively. National coach, Anthony Ikolo and former president Toke Aka also picked the first and third-place prizes respectively in the A division of the Indian Open played from 18th to 20th November.
WESPAC Finals and Team Nigeria
In the main tournament, Nigeria was represented by Team Captain Moses Peter, former Champion Jighere Wellington, Olatunde Oduwole, Etim Nsikan, Dennis Ikekeregor, Ben Quickpen, Enoch Nwali, Eta Karo, Emmanuel Umujose, Bukunmi Afolayan (female) and Oshevire Avwenagha.  A total of 140 players from 32 countries participated in the tournament.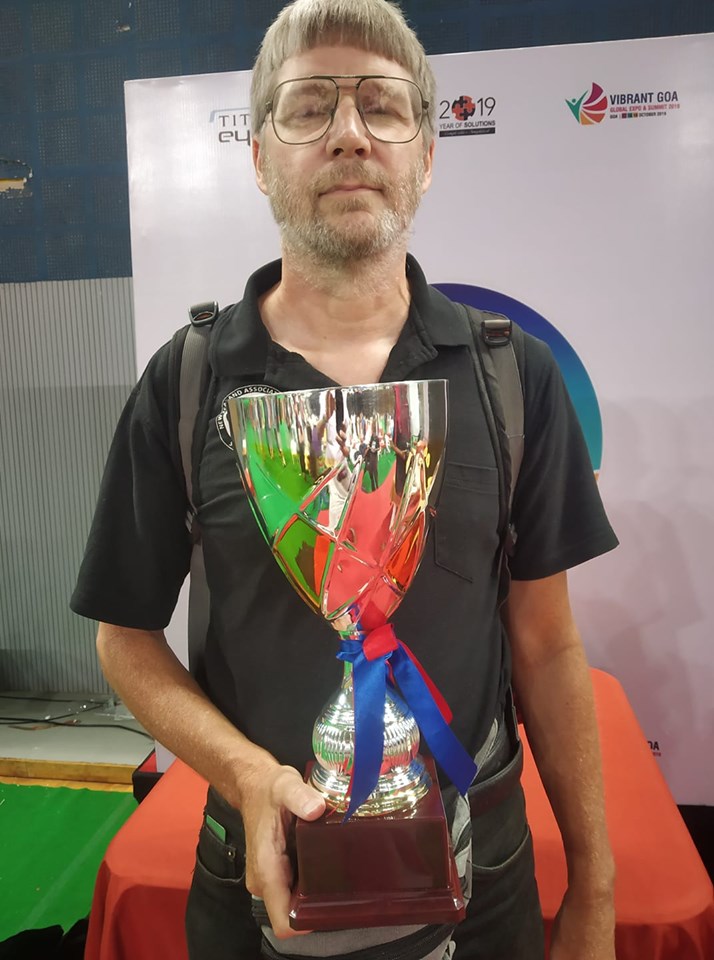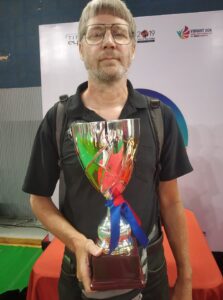 Acclaimed world best player, Nigel Richards triumphed after round 30 of the 32 game round-robin to qualify in style for the finals with two games to spare. Jesse Day later joined him in the finals, after subduing Oduwole (544-362) in round 31 and fellow American David Wiegand (520-328) in the final round. In the finals, Nigel Richards beat Day in the first (523-445) and second (424-403) rounds while the American hit back (459-363) in the third and (457-402) fourth rounds. Day won the fifth round (414-393) and Nigel had to dig deep for a 503-434 win in the sixth round to make the tally 3-3 and set up a nervy final round. Nigel Richard later won the 7th and final game 562-408 becoming the third winner from three different continents to win the prestigious title. Tacha Koowirat of Thailand finished in third place.
Overall team Nigeria put up a creditable performance at the main event with youthful Enoch Nwali who finished in 5th place at the forefront. The National Scrabble Team shrugged off stiff opposition from hosts India and the very strong Malaysia team to come first overall. The team finished with an average rank of 19.9 to finish ahead of India (25.4) and Malaysia (36.4) in the team (country) rankings.
Team Nigeria (Individual) Final Positions
Enoch Nwali - 5th
Ben Quickpen - 10th
Eta Karo - 11th
Olatunde Oduwole - 12th
Umujose Emmanuel - 16th
Dennis Ikekeregor - 23rd
Avwenegah Oshevire - 25th
Wellington Jighere - 30th
Nsikan Etim - 31st
Moses Peter - 36th
Bukunmi Afolayan - 58th
PANASA representatives and other Notable Performances
Other Pan African Scrabble Association (PANASA) members viz Kenya, Uganda, Sierra Leone and Ghana also had representatives at the championship. Kenya's Alan Oyende who finished in 17th place was the best-placed non-Nigerian PANASA member at the tournament. Nigerian-born Niyi Adebayo (117th) and Lukeman Owolabi (78th) played for Scotland and Ireland respectively. Teenage sensation Tarin Pairor (17 yrs) of Thailand who finished in 23rd place turned more than a few heads for his stellar performance at the tournament.
Photos








Collins released the much promised WESPA-approved official Scrabble Word List yesterday 2nd May 2019. The updated word list which according to the publishers is "the latest official Scrabble word list, endorsed by governing body WESPA for use in tournament and club play from 1st July 2019, contains all valid Scrabble words".  The list contains over 279,000 words approved for Scrabble.
According to Technical Director Faruq BabaInna, the Nigeria Scrabble Federation will adopt the new dictionary from July 1st 2019. The date also coincides with WESPA's official usage for international tourneys.
An Initiation Kit for the 2019 update is available on the WESPA website.
The new Collins word list aka CSW19 will be out in May 2019, WESPA Dictionary Committee announced recently. WESPA Chairman, Elie Dangoor confirmed that the guide date for adoption in WESPA related events is July 1st 2019 and member associations are 'free to choose their own adoption date, although we would expect them to comply for WESPA rated events, especially international ones'  in an interview on the WESPA website.
The Nigeria Scrabble Federation Technical Director, Faruq Baba-Inna has confirmed July 1st as the official adoption date for all Scrabble events in Nigeria.
A total of 2,862 (two thousand eight hundred and sixty-two) new words will be added into CSW19 while 29 words are to be deleted from the current (CSW15) list. The total number of words in CSW19 will be 279496 according to WESPA Dictionary Committee Chair, Darryl Francis in the interview. Dictionary Committee member, David Sutton confirms that an Initiation Kit will be made available in electronic (.pdf) form on May 2nd this year.
The new additions include 3 (three) new two-letter words like EW, ZE and OK and 6 (six) new three-letter words. EW (used to express disgust) and OK (all right) are adoptions from The Official Scrabble Players Dictionary 6th edition (OSPD6), while ZE (used as a gender-neutral third person) was adopted from the 2018 edition of Collins English Dictionary. According to Darryl, the new words are from three sources.
Collins English Dictionary (2018 edition)
The Official Scrabble Players Dictionary 6th edition (OSPD6)
The Official Tournament and Club Word List (2018 edition)
Sources : Collins Dictionary, Hasbro Scrabble Tools and  WESPA
WESPA chairman Elie Dangoor has announced that GOA [note]Goa is a state in India within the coastal region known as the Konkan, in Western India. It is bounded by Maharashtra to the north and Karnataka to the east and south, with the Arabian Sea forming its Western coast. It is India's smallest state by area and the fourth smallest by population. Goa has the highest GDP per capita among all Indian states, that is two and a half times that of the country. It was ranked the 'best placed State' by the "Eleventh Finance Commission" for its infrastructure and ranked on top for the 'best quality of life' in India by the National Commission on Population based on the 12 Indicators. Source WikiPedia [/note] has won the right to host the World English-Language Scrabble Players' Association Championship WESPAC from 21st to 26th October 2019.
In a closely fought battle, Goa pipped Kuala Lumpur to host the next WESPAC. Thanks also to Trinidad & Tobago for an exciting bid. Both these places will hold great events in the not too distant future. More details and full article to come after June 8th, when Nick Ivanovski is back from holiday.
Cover photo by Satyajit Nayak - Own work, CC BY-SA 4.0, Link
Nigeria successfully defended her title as the best Scrabble playing nation at the 2nd edition of WESPAC (World English Language Scrabble Players Association Championship) tournament held from the 6th to 12th of November 2017 in Nairobi, Kenya. The championship tournament featured 119 players from 30 countries who played 32 round-robin games each at the end of which two finalists emerged. At the first edition of WESPAC held in 2015 in Perth, Australia, Nigeria's Jighere Wellington emerged world champion. This edition also produced a superlative performance from another Nigerian, Mr Moses Peter, a top Scrabble player and captain of our team.
The finalist
Moses Peter finished the 32 games in second (2nd) place with 22 wins +1762 behind Akshay Bhandarkar of Bahrain who had 23 wins and +1082 spread. The two players played a best-of-7 finals where Moses Peter gallantly lost 3-4.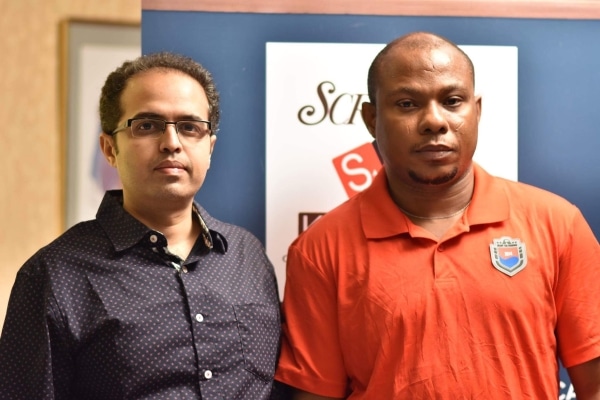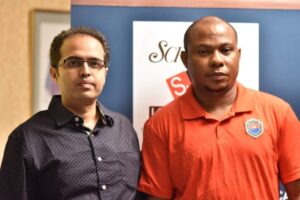 Bhandarkar won the 1st and 3rd games. Moses Peter made sure he was not left behind by winning the 2nd and 4th games. He then pulled ahead with a 3rd win in the 5th game. Bhandarkar then needed to win the last 2 games for the title which he did. For his efforts, Bhandarkar went home with $7,000 and a trophy while Peter got $6,000 and a trophy. In third place was Nigel Richards of New Zealand, arguably the best player on the planet whom Peter had to defeat in round 32 to qualify for the finals.
Strongest Scrabble Playing Nation
Overall, our representatives were expected to put up a formidable challenge at the tournament and they did not disappoint. 2016 champion Wellington Jighere with 21 wins +1181 spread, finished strongly in fourth place while Olaiya Kabir (6th), Eta Karo (9th) and Dennis Ikekeregor (13th) also rallied to ensure Nigeria dominated the top 15 places. Worthy of note also in 11th position was former African champion, Nigeria's Femi Awowade who represented England at the championship. With the team performance, Nigeria retained her title as WESPAC Best Scrabble Playing Nation.
Team Nigeria in no particular order (position after 32 rounds in brackets)
Moses Peter  (2nd) - qualified for final
Dennis Ikekeregor (13th)
 Eta Karo (9th)
Wellington Jighere  (4th)
 Dipo Akanbi (72nd)
Nsikak Etim  (31st)
Olaiya Kabir (6th)
Olatunde Oduwole (28th)
Tuoyo Mayuku (64th)
Ben Quickpen (44th)
Ojior Oshikena (56th)
Curtis John (22nd)
Dayo Tayo (57th)
Mpakaboari Jack (60th)
Photos used courtesy of the 2017 WESPAC event website and various sources online.
The world Scrabble community held her breath on the 8th of November 2015 as Nigeria's Wellington Jighere outmatched and outscored 129 players from 33 countries all over the world including his five teammates at the World English Scrabble Association Championship (WESPAC). The championship was held from Wednesday, November 4th to Sunday, November 8th, 2015 in Perth, Australia. Mr Jighere along with Messrs Eta Karo, Ayorinde Seidu, Cyril Umebiye, Onota Oteheri and Emmanuel Umujose made up the small contingent of 6 (six) top-rated Scrabble players Nigeria presented for the tournament. The team travelled to Australia without any accompanying officials from the Nigeria Scrabble Federation who were sadly denied visas to travel for the competition.
Wellington Jighere ranked 7th before the tournament eventually garnered the highest points after 32 gruelling games to emerge as the first qualifier of two finalists. The finalist will meet to play a best of 7 games series to determine the next champion of the game. Jighere led the 130-strong field with 25 points out of a possible 32 with a spread of +1347 and automatically qualified for the finals. Lewis MacKay of England whose pre-tournament rank was 8th finished with 23.5 +1054 to emerge as the other finalist. While Jighere had qualified for the finals with two games to spare, Lewis Mackay had to play Komol Panyasophonlert (Thailand) twice in the last two rounds to emerge as the second finalist. On Sunday the 8th of November 2015, the last day of the tournament, the finalists met to determine the winner behind closed doors in a best of 7 (seven) series. Jighere Wellington had come close to the crown twice, coming 3rd in Mumbai, India in 2007 and then 11th two years later in Johor Bahru, Malaysia. This time he triumphed in grand style with four (4) straight wins (Finals 1: 529-398, Finals 2: 438-410, Finals 3: 563-459, Finals 4: 449-432) winning the 14th World Scrabble Championship title, the first African ever to do so.
The six-man Nigeria team performed creditably well at the tournament. The Nigerian team was rated overall best after the tourney with an average rank of 32.5.
The six members Wellington Jighere (1), Ayorinde Seidu (16), Emmanuel Umujose (17), Cyril Umebiye (41), Onota Oteheri World (44) and Eta Karo (76) all finishing above the bottom third of the 130-strong field (the highest number of entries at the championship). Mr Jighere won the sum of ten thousand (10,000) USD for his efforts.

The 2015 WESPAC tournament featured several former holders of the WSC title including Craig Beevers (2014), three-time winner Nigel Richards (2007, 2011, 2013), Adam Logan (2005) and Mark Nyman (1993). Esther Perrins (Australia) 22 +1125 placed third, the best ever performance by a female player in the history of the tournament.
Team ranking for the top five countries
Nigeria 32.5
Kenya 44
England 44.8
Singapore 44.9
Scotland 45.5
Top Ten Standings
Wellington Jighere (NGR)
Lewis Mackay (ENG)
Esther Perrins (AUS) 22 +1125
Komol Panyasoponlert (THA) 21.5 +1031
David Wiegand (USA) 21 +1200
Marlon Prudencio (SGP) 21 +640
Evans Clinchy (USA) 20.5 +1326
Nigel Richards (NZL) 20 +1287
Craig Beevers (ENG) 20 +913
Austin Shin (ENG) 20+910
Top Nigerian Scrabble players and officials have arrived Cape Town, South Africa venue of the 11th edition of the Africa Scrabble Championship. The event starts from the 25th of October and ends on the 28th of October, 2014.  The team led by President of the Nigeria Scrabble Federation, Alh Suleiman Gora is expected to repeat Nigeria's dominance of the game in Africa by retaining the trophy won at the 10th ASC by Rex Ogbakpa the defending champion who is also a member of the current team. Nigeria has won 9 of the previous 10 editions of the championships. Two members of the Nigerian team Jighere Wellington and Ikekeregor Dennis have been crowned Africa Scrabble Champion twice.  62 players representing 6 African countries are participating at this year's championship.
Players List
Jighere Wellington

Eta Karo

Olatunde Oduwole

Ogbakpa Rex

Dennis Ikereregor

Ayorinde Saidu

Nsikak Etim

Prince Omosefe

Kabir Olaiya

Moshood Sanni


Moses Peter

Owolabi Lukeman

Anthony Ikolo (Coach/Player)


Olobatoke Aka

Faruk BabaInna

Sulaiman Garba

Bassey Umoh

Oladokun Esan

Beatrice Touyo Mayuku
You can follow the 2014 ASC results here.
The 8th edition of the Godswill Akpabio International Scrabble Classics was concluded on Sunday the 28th September 2014. Current Scrabble World Champion Nigel Richards became the second non-Nigerian to win the coveted prize. He carted home the top prize of twenty thousand US dollars $20,000 after 28 games. He won 21 games with a total spread of +1797 points. Former African Champion Jighere Wellington came second with 19 wins and +807 spread while Olatunde Oduwole came third with 19 wins and +739 spread. Full results and game statistics of the Masters can be found here.
In the Intermediate category Ezinore George came first with 20 wins out of 28 games and a +990 spread followed closely by Evruje James 19 wins +1375 and Etua Larry 19 wins +778 spread in second and third place respectively. For full results in this category click here . The Open category was won by John Aiyedun 20/24 +1626 spread. In 2nd and 3rd place respectively were Adekunle Ayo (17/24 +1413 spread) and Ohwonohwo Rutherford (17/24 +1295 ). The Ladies category had 42 ladies in attendance with 24 games played. The first prize went to Ekaba Dorcas who had 19.5/24 +1948, beating Lawrence Adesola (19/24 +557) and Yeribo Zini (16.5/24 +1400) to the second and third position respectively. In the Veteran category Odulele Rotimi came first with 22/28 +1695, with Barr. Aquaisua Edet coming second with 20/28 +1318 while Majemite Prince came third with 19/28 +1067. Full results: Open Ladies Veterans
The tournament was attended by over 400 players including elementary school children with the NSF Board members and officials presiding. The opening ceremony was attended by the Akwa Ibom state Commissioner of Health who gave a talk on prevention and control of the current Ebola epidermic in W/Africa. The closing ceremony and banquet was presided over by the State Deputy Governor Valerie Ebe who presented the trophy to the Champion Nigel Richards assisted by commissioner for Sports and the representative of the Minister of Sports Mr Bolaji Ojo-Oba along with NSF president Suleiman Gora and other board members.
The WESPA has announced premilinary information regarding the Scrabble Champions Tournament which will now replace the World Scrabble Championships. The article can be read at the WESPA website.
The WSC is now to continue and be known as Scrabble Champions Tournament.
The SCT will now be held annually as opposed to the biennial WSC starting December this year.
The SCT will be held as part of the Prague Mind Sports Festival in December yearly.
The event will have two categories/divisions: Elite and Open.
Elite division representatives will be selected by the national associations while open division reps will be players who are willing to sponsor themselves regardless of category and ability (whilst representing their countries) to the event.
Further information on this will be published later.