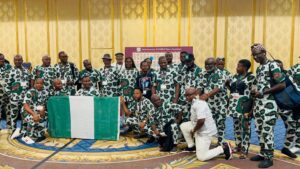 Nigeria completed her sojourn at the 2023 World Scrabble Championship in Las Vegas, Nevada, USA with a respectable fourth and second individual and team final position respectively. Thirty-two (32) preliminary games were played after which the top two players qualified for the best-of-seven finals. One hundred and thirty-five (135) players from twenty-nine (29) countries competed at the tournament.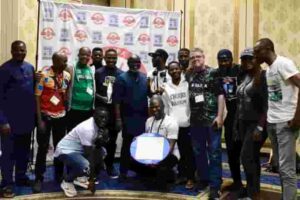 Former world champion and Nigeria's most successful player, Wellington Jighere (with a pre-tournament rank of 4) was among the top three on the log for most of the thirty-two rounds. However, two consecutive losses in round 31 and 32 to Adam Logan of Canada and David Eldar of Australia respectively ensured he lost out in the qualification for the finals. Jighere secured 22 wins from 32 games to end the championship in 4th position.
Eldar becomes World Scrabble Champion for the 2nd time.
Former World Champion David Eldar who edged out Nigeria's Jighere, beat Harshan Lamabadusuriya of England 4-3 in a tight best-of-7 final to become the second player to win the world title twice with Nigel Richards of New Zealand.
Harshan Lamabadusuriya who was playing in his first World Scrabble Championships qualified for the finals as the top player of the 32 rounds with 23 wins and a +1283 spread while David Eldar reached the final with 22.5 and a spread of +2094. Harshan and Eldar went on to play in the finals which Eldar won. Lewis Mackay of England (22 +1763) finished in third position while Wellington Jighere of Nigeria had 22 and +1122 spread to finish in fourth.
The Team title went to host USA at the expense of Nigeria and Canada.
Nigeria Representatives: Rank and Stats
4 Wellington Jighere 22 +1122
14 Nsikak Solomon Etim 20 +434
17 Nwali Enoch 19.5 +1349
25 Tuoyo Mayuku 19 -36
35 Eta Karo 18 +547
36 Dennis Ikekeregor 18 +465
37 Emmanuel Ofidi 18 +404
42 Oshevire Avwenagha 17 +680
55 Olatunde Oduwole 17 -70
56 Bright Idahosa 17 -655
58 Olawale Fashina 16.5 +198
62 Opeyemi Oloro 16 +327
69 Prince Omosefe 16 -284
72 Sanya Adebola 16 -441
77 Mpakaboari Jack 15.5 +32
79 Curtis John 15 +524
86 Ojiru Onota 15 -95
90 Dipo Akanbi 15 -249
Click here for the full table
Other Africa (PANASA) representatives
Charles Tachie-Menson was Ghana's highest ranked player at number 8. Patrick Mpundu of Zambia finished in the 65th position as the best player from Zambia and south of Africa. Steven Gruzd topped the South Africa's chart at number 88. Uganda's Chris Ntege came 97th behind Sierra Leone's Ibrahim Deen Swaray in the 96th position, while 117th placed Wenwa Akinyi was the highest placed Kenyan at the tournament.
Jighere Triumph at NASPA pre-WSC tourney
Nigeria's Jighere Wellington emerged champion at the NASPA 2023 Scrabble Championship (Collins Division 1) from a 0-2 initial score in the best of 5 final. 3-2 was the final score against the Australia's David Eldar who went on to become the 2023 world champion. Sanya Adebolu of Nigeria also triumphed in the Division two category of the NASPA event in Las Vegas, ensuring qualification to compete for the nation at the WSC finals.
Additional stories courtesy Maxwell Kumoye