Senate President of the Federal Republic of Nigeria and Grand Patron of the Nigeria Scrabble Federation (NSF), Sen. Godswill Akpabio has charged members of Team Nigeria to the World Scrabble Championship in Las Vegas, Nevada, USA, to make the country proud at the event. He gave this charge to the team on Tuesday in his office when the team led by NSF President Engineer Toke Aka paid him a visit.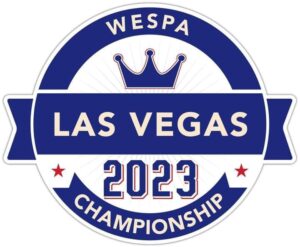 The Senate President, told the team to be good ambassadors of Nigeria while in the United States for the Championship which runs between the 22nd and 26th of this month in Las Vegas. During the visit, NSF president Engineer Toke Aka officially informed the Senate President that a key member of the team, Doko Oluwatimilehin was yet to get his US visa for the tournament. Senator Akpabio immediately reached out to the US embassy, stating that Doko Oluwatimilehin is a young and talented player who will add colour to the World Championship. "Doko is a future World Champion and an undergraduate pharmacy student of the University of Lagos that Team Nigeria needs at the Championship and he will surely return home to complete his education." The former Akwa Ibom State governor told the US embassy official on phone. We gathered that, the US embassy has requested the Federal Ministry of Youth and Sports to send it a covering letter for the young sportsman.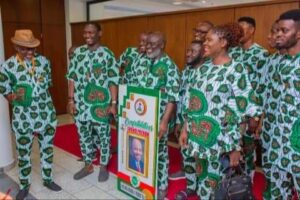 The Senate President also charged the team to do the country proud by repeating the feat of 2015, which saw them emerged the best team and the world champion through Wellington Jighere. The team is expected to depart Nigeria today (Wednesday) via the of Turkish airlines to be part of the World Championship.
Five African Scrabble Champions are part of Team Nigeria squad to the World Championship. The players and officials (first batch) leaving for the USA are as follows.
 Fashina Olawale
Aweh Ebi
Salami Lateef Olabisi
Mayuku Tuoyo
Onota Ojiru
Adesiyan Adebowale Oluwayemi
Eyekomogba Akpomemerhe Morrison
Omosefe Prince
Oloro Opeyemi Noheem
Akanbi Oladipupo Monsuru
Sanya Adebola Oladipupo
Etim Nsikakabasi Solomon
Ikekeregor Dennis
Ofidi Emmanuel
Ikolo Anthony
Jighere Wellington
Eta Paul Oghenekaro
Oduwole Olatunde
Avwenagha Oshevire
Aka Olobatoke
Thukson IV Ejiro
Adetomiwa Adeloye
Nwali Enoch
Idahosa Bright
Osadolor Charles
Report by Maxwell Kumoye (NSF Media and Publicity)