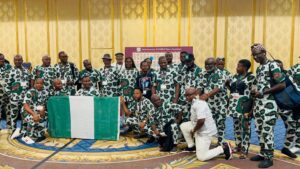 Nigeria completed her sojourn at the 2023 World Scrabble Championship in Las Vegas, Nevada, USA with a respectable fourth and second individual and team final position respectively. Thirty-two (32) preliminary games were played after which the top two players qualified for the best-of-seven finals. One hundred and thirty-five (135) players from twenty-nine (29) countries competed at the tournament.
(more…)
Senate President of the Federal Republic of Nigeria and Grand Patron of the Nigeria Scrabble Federation (NSF), Sen. Godswill Akpabio has charged members of Team Nigeria to the World Scrabble Championship in Las Vegas, Nevada, USA, to make the country proud at the event. He gave this charge to the team on Tuesday in his office when the team led by NSF President Engineer Toke Aka paid him a visit. (more…)
Mattel, is delighted to announce that the World Scrabble Championships 2018 and the World Junior Scrabble Championships 2018, will be held at The Riviera International Conference Centre (ERC)  located in the heart of the English Riviera, in Torquay, England.
The event will consist of the World Junior Scrabble Championships and World Scrabble Championships, taking place at The Riviera International Conference Centre (ERC) from 20th October 2018 to 28th October 2018.
Mattel is working closely with our partner and event organisers TMA International to ensure the smooth running and success of the championships.
The National Senior Team Coach of the Nigeria Scrabble Federation (NSF), Mr Ikolo Anthony has invited twenty-two players to 5-day training camp in Port-Harcourt. The camping in collaboration with Total E&P Scrabble Club, Port-Harcourt is part of the process to select the teams that will represent Nigeria at this year's Africa Scrabble Championships, World Scrabble Championships and the Alchemist Cup holding in Gambia, England and Malaysia respectively. The camping will be held between the 21st - 25th of May 2018 at Total E&P Staff Club, Ogoja Street Amadi Flats Old GRA, Port Harcourt. Rivers State.
The list of invitees include fifteen top-rated home-based players viz
 Wellington Jighere 1847
 Eta Karo 1761
Dennis Ikekeregor 1759
Cyril Umebiye 1755
 Tuoyo Mayuku 1738
 Ezinore George 1704
Moses Peter 1691
Nsikak Etim 1677
Noble Onoshevwe 1675
Ewruje James 1662
Segun Durojaye 1642
Dipo Akanbi 1636
Oshevire Avwenagha 1626
Quickpen Ben 1616
Prince Omosefe 1611
Four (4) players were given wild cards
Sule Success - female player
Oshodi Sunday - host
Osikhena Ojior - host
Raymond Gbaraba - host
Three (3) players were invited based on outstanding performance in recent tournaments and club retreats. They are:
Enoch Nwali
Munanyo Vincent - Intermediate winner, NSPC 5
Atti Daystar - Opens winner, NSPC 5
Players will be provided accommodation, feeding (at least 1 free meal/day) and tea breaks as necessary.
Arrival date is Sunday, May 20, 2018. All invited players are expected to come with their complete scrabble playing materials. In addition, all players are expected to have been licensed and of good behaviour with respect to constituted authorities.
Invited players have until May 18, 2018, to give their consent to participate to NSF Technical Director, Mallam Faruq Baba - Inna (08036207546) and the Coach Senior Team (08023361200).
The WESPA has announced premilinary information regarding the Scrabble Champions Tournament which will now replace the World Scrabble Championships. The article can be read at the WESPA website.
The WSC is now to continue and be known as Scrabble Champions Tournament.
The SCT will now be held annually as opposed to the biennial WSC starting December this year.
The SCT will be held as part of the Prague Mind Sports Festival in December yearly.
The event will have two categories/divisions: Elite and Open.
Elite division representatives will be selected by the national associations while open division reps will be players who are willing to sponsor themselves regardless of category and ability (whilst representing their countries) to the event.
Further information on this will be published later.
The NSF has concluded her WSC Qualifiers to select players who will represent Nigeria at the upcoming World Scrabble Championship.  Based on the selection modalities, results and ratings, the following persons have been selected to hoist Nigerian flag at the WSC in Warsaw, Poland.
Players
Moses Peter
Esan Oladokun
Moshood Sanni
Nsikan Etim
Oshodi Sunday
Reserves
Onoshevwe Noble
Ogbonyomi Friday
Balogun Rasheed
Edewor Bobor
Ogbogu Azu