The Nigeria Scrabble Federation in conjunction with the Kano State Scrabble Association invites you to the 18th Kano National Open Scrabble Competition from Saturday 26th to Sunday 27th of February 2022 at Kano Club (Scrabble Section), No. 2, Bompai Road, Kano.
Categories and Registration Fees
Categories are Masters, Intermediate, Veterans, and Open.
Masters: National Rating from 1400 and above (Registration fee: N5000)
Intermediate: Rating between 1100 - 1399 (Registration fee: N4000)
Veteran: Over 55 yrs and Captains of Industry as approved by the NSF (Registration fee: N4000)
Open: Rating below 1099 and new (unrated) players (Registration fee: N3000)
Females (except Veterans) registration is N1000.
Mode of Play/Rules
No of Games: Total of 15 for each category ( 1 random, 11 lagged and 3 King of the Hill rounds)
Game Rules: All Current WESPA & NSF Rules will apply during the Qualifiers/Grand Finale except otherwise stated.
Time Allotment: 20 minutes will be allotted to each player per round.
Dictionary: Collins Scrabble Words Dictionary, 2021.
Program Schedule
Download the program of activities (brochure). Click to download here.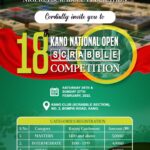 Registration and Payments
All intending players must register online by completing the registration form here latest by Thursday 24th February 2022 11.59 pm (GMT Lagos/Accra). Registration would be validated only if the applicable registration fee is paid online immediately after registration. Payments are accepted and processed on this website via Paystack.