Nigeria's five-man team to the maiden Alchemist Cup finished in 4th place as the tournament ended yesterday (9th December 2018) in Penang, Malaysia. Members of the team include the reigning African Champion, Moses Peter, Eta Karo, Olatunde Oduwole and Etim Nsikan who all competed in the 13th Africa Scrabble Championship (Kenya 2018). After the tournament, they immediately jetted out from Kenya to Malaysia to join the fifth member of the team Saidu Ayorinde.
The Alchemist Cup is an elite invitational Scrabble tournament. Ten teams of five players per team will play a schedule where each player plays the 45 players from teams other than their own. The event is organized by Mr Micheal Tang who also organises the Causeway Challenge. The maiden event had teams from the best Scrabble playing nations in the world (with WESPA rating as at 28 Oct) viz Nigeria (mean rating 2065, the highest), USA (2048), Australia (eventual champions- mean rating 2043), New Zealand (1971),  Thailand (1962), Singapore (1896) and Malaysia (1886). They were joined by teams from Rest of the World (1960), East Africa (1785) and Rest of Asia (1785). A total of 45 games was played over 5 days from the 5th to 9th of December 2018.
Team Performance
The Nigerian team performed creditably considering the fact that the bulk of the team barely had time to rest after the ASC in Kenya. Results from the event website showed that our team never placed lower than the 5th position all through the 5-day event. Nigeria won 27 rounds and had 126.5 points with a spread of +4908 which placed her in the fourth position overall.
Nigeria
ASAI
EKAR
MPET
NETI
OODU
Games = 126.5
22
27
29
23
25.5
Spread +4908
+855
+1033
+1518
+1035
+467
Mean
429
442
460
442
437
Team Performance Table (courtesy Alchemist Cup website )
Australia won 31 rounds (with 133 points and +2739 spread) to finish as champions, the USA was first runner-up with 31 rounds, 131 points and a spread of +5362 while the Rest of the World team came third with 30 round wins, 125 points and +2609 spread. East Africa finished in 10th place (11 rounds won, 78.5 points and a spread of -6386).  The Champion team won USD 10000, second placed team USD 5000 while the third-placed team took home USD 3000.
Individual Standings
Ganesh Asirvatham of Malaysia won the top Individual Prize (for those not in the top 3 teams) of  USD 1000 with 31 wins and a spread of +2560. Nigel Richards (NZL) 31 +1499 and Thacha Koowirat (THA) 30 +1880 won USD 600 and USD 400 respectively as the 2nd and 3rd best performing players for those outside the top 3 teams.
1st Ganesh Asirvatham (MYS) 31 +2560
2nd Adam Logan (ROW) 31 +2174
3rd Nigel Richards (NZL) 31 +1499
4th Thacha Koowirat (THA) 30 +1880
5th Conrad Bassett-Bouchard (USA) 30 +1332
6th Moses Peter (NGA) 29 +1518
7th Austin Shin (ROW) 29 +1431
8th Panupol Sujjayakorn (THA) 29 +642
9th David Wiegand (USA) 28 +1776
10th Naween Fernando (AUS) 28 +788
14th Eta Karo (NGA) 27 +1033
17th Olatunde Oduwole (NGA) 25.5 +467
23th Nsikan Etim (NGA) 23 +1035
26th Ayorinde Saidu (NGA) 22 +855
The South-South zone concluded the zonal preliminaries for the Winifred Awosika Scrabble Tournament for Schools on April 7 2018 at the Shell Club, Port-Harcourt.
The National Coach Senior Team, Anthony Ikolo acted as Technical Director and ensured that all games were entered using the standard format. There were youth players from Akwa Ibom, Edo and Rivers state. The children were well behaved and were very enthusiastic.
At the end 3 pupils (2 from Akwa-Ibom and 1 from Edo) qualified for the finals coming up in May at Lagos. They are Bassey Abasido (Akwa Ibom), Archibong Prestige (Akwa Ibom) and Ejenakevbe Ese (Edo).
Winifred Awosika Foundation a non profit, non-governmental organization focusing on the well being of children and women has been promoting the game among school children for the past few years. This year, the foundation has decided to give her annual youth Scrabble tournament, the Winifred Awosika Scrabble Tournament for Schools (WASTFS) a national outlook with the inclusion of qualifiers from each of the 6 geo-political zones.
The tournament is restricted to primary school pupils only. There will be zonal preliminaries in each zone at the zonal headquarters comprising of 3 qualifiers from each state in a particular zone.
At the end of the preliminaries, three players each will emerge to represent each zone. Lagos and Abuja are not inclusive as special arrangements are already in place for their representatives to emerge.
The qualifiers and one chaperone each for each state will be sponsored by the foundation to Lagos Chrisland School in Opebi Lagos where the finals will take place in May.
Participating students (youths) will be given T-shirts and bags while gifts will be given to participating schools. There will be medals and trophies for winning schools with cash prizes for top (youth) player and school. Find details of the cash prizes below.
Prizes
1st Prize:  School: N100,000  Individual:N150,000
2nd Prize: School: N100,000 Individual: N100,000
3rd Prize: School: N70,000 Individual: N80,000
4th Prize: School: N40,000  Individual: N60,000
5th-8th: N20,000 each (Individual)
Date: 31st May - 2nd June 2018
Venue: Chrisland High School, Opebi, Lagos
Nigeria successfully defended her title as the best Scrabble playing nation at the 2nd edition of WESPAC (World English Language Scrabble Players Association Championship) tournament held from the 6th to 12th of November 2017 in Nairobi, Kenya. The championship tournament featured 119 players from 30 countries who played 32 round-robin games each at the end of which two finalists emerged. At the first edition of WESPAC held in 2015 in Perth, Australia, Nigeria's Jighere Wellington emerged world champion. This edition also produced a superlative performance from another Nigerian, Mr Moses Peter, a top Scrabble player and captain of our team.
The finalist
Moses Peter finished the 32 games in second (2nd) place with 22 wins +1762 behind Akshay Bhandarkar of Bahrain who had 23 wins and +1082 spread. The two players played a best-of-7 finals where Moses Peter gallantly lost 3-4.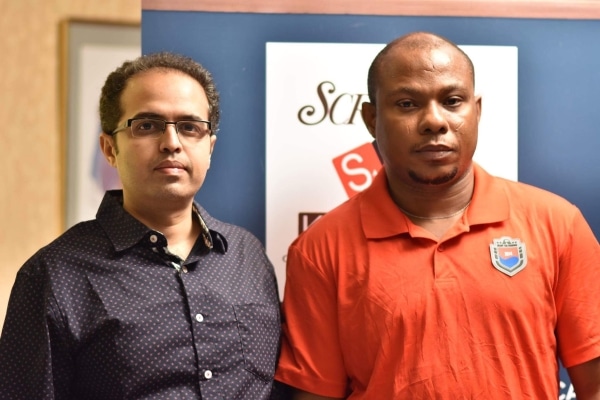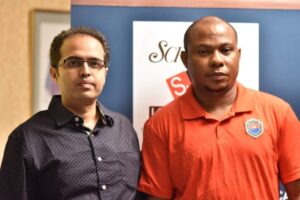 Bhandarkar won the 1st and 3rd games. Moses Peter made sure he was not left behind by winning the 2nd and 4th games. He then pulled ahead with a 3rd win in the 5th game. Bhandarkar then needed to win the last 2 games for the title which he did. For his efforts, Bhandarkar went home with $7,000 and a trophy while Peter got $6,000 and a trophy. In third place was Nigel Richards of New Zealand, arguably the best player on the planet whom Peter had to defeat in round 32 to qualify for the finals.
Strongest Scrabble Playing Nation
Overall, our representatives were expected to put up a formidable challenge at the tournament and they did not disappoint. 2016 champion Wellington Jighere with 21 wins +1181 spread, finished strongly in fourth place while Olaiya Kabir (6th), Eta Karo (9th) and Dennis Ikekeregor (13th) also rallied to ensure Nigeria dominated the top 15 places. Worthy of note also in 11th position was former African champion, Nigeria's Femi Awowade who represented England at the championship. With the team performance, Nigeria retained her title as WESPAC Best Scrabble Playing Nation.
Team Nigeria in no particular order (position after 32 rounds in brackets)
Moses Peter  (2nd) - qualified for final
Dennis Ikekeregor (13th)
 Eta Karo (9th)
Wellington Jighere  (4th)
 Dipo Akanbi (72nd)
Nsikak Etim  (31st)
Olaiya Kabir (6th)
Olatunde Oduwole (28th)
Tuoyo Mayuku (64th)
Ben Quickpen (44th)
Ojior Oshikena (56th)
Curtis John (22nd)
Dayo Tayo (57th)
Mpakaboari Jack (60th)
Photos used courtesy of the 2017 WESPAC event website and various sources online.
The World English Scrabble Players Association Champion 2015-2017 and Mind Sports Ambassador, Mr Wellington Jighere invites all and sundry to his maiden Scrabble Classics. The Wellington Scrabble Classics is a precursor to the Akpabio Classics which is also a precursor to WESPAC Kenya.
Date: 8th - 10th September 2017
Venue: Option57 Hall and Suites, Abisogun Avenue, Akesan, Lagos.
Number of Categories: Three (3) categories namely: Masters (1400 rating points and above), Opens (1399 rating points and below) and Youth (Under 17).
Registration: 14th August and ends on 7th September 2017.
 Masters (rated 1400 and above): N6,000.
 Open (rated 1399 and below): N5,000.
 Youth (Under 17): N2,000
Players are to register for the tourney by paying their registration fees into the account provided below:
Account number: 0050704286 (Access Bank Plc)   Account name: Wellington Jighere. After payment, players are to text their names and payment details to this number for confirmation: 08037339135
Number of games: 15 (fifteen)
Tournament Rules: WESPA rules version three with 10 points penalty for an unsuccessful challenge.
Time: 20 minutes per player.
Rating: NSF/WESPA
Projected Star Prize: N200, 000 (two hundred thousand Naira only).  It might be more pending on arrival of additional sponsorship.
Total Prize Pool: N750, 000 (seven hundred and fifty thousand Naira only).  Might be more on arrival of additional sponsorship.
Pairing Software: TSH (Seun Oyeleke).
Name of Organizers: Wellington Jighere and Gen. Gold Eburu.
Contact Phone number: +2348037339135
Mind Games Incorporated invites the Scrabble community and the general public to the maiden edition of Nigerian MindGames Festival. The event will be held between 2nd - 5th November 2017 at Kakanfo Inn and Conference Center 1 Nihinlola Street Off Ring Road,  Joyce B Road, Ibadan Nigeria. The 1st Nigerian MindGames Festival will feature Scrabble, Draughts and Chess events in different categories.
The Scrabble event comprises of Open, Intermediate and Masters categories. To participate in the 1st Nigerian MindGames Festival you must be an active member of Mind Games Incorporated.  Registration starts on 15th August 2017. Early registration ends October 15 2017. Late registration starts October 16 2017. All registrations end 22nd October 2017. Late registrations attract an N2,500 surcharge. Entries will not be accepted after 22nd October 2017.

Registration fee (Scrabble)
Open: N6000
Intermediate: N7000
Masters: N8500
Ladies: N5000
Credit/debit cards are accepted during registration on the MGI website. Players may also pay registration fees via bank deposits/transfers. Players are required to register online with their teller/bank deposit code as soon as bank deposits are made. Please make bank payments payable to the following account: PHILLUC ASSOCIATES NIG LTD  FCMB  403 100 4016
Format (Scrabble)
Dictionary:  CSW15
Rules: WESPA
Time control: 25 minutes/player, 10 points for every additional 1 minute.
Challenge Penalty: 10-point penalty (per move)
Pairing Software: TSH – Chew Pairing System
Rounds: 22 rounds with best of 3-final between top 2 finishers in Masters category, 25 straight rounds for other categories.
Categories:

Masters: NSF rating from 1450
Intermediate: rating below 1450 to 1200
Open: rating below 1200
Players can play up if they wish but playing down is not allowed.
For more information, please visit the 1st Nigerian MindGames Festival event page
Engr Dipo Akanbi, representing Lagos state, emerged the 2017 National Scrabble Champion by winning the 2017 edition of the Asaph Zadok  National Scrabble Championship held in Abuja. He won 18 games with an spread of +743 to dethrone 2016 national champion Olatunde Oduwole who finished in fourth place.  For his effort Dipo Akanbi won a cash prize of N150,000 along with a trophy and the green jacket signifying his admission into the elite group of Nigeria National Scrabble Champions.
Dayo Tayo, also of Lagos state, came second with 16.5 points and a spread of +346. He won a cash prize of N100,000. Moses Peter of Akwa Ibom came third with 16 wins and a +1351 spread, winning a cash prize of N50,000.
Team Lagos retained the title as the best state with five out of their six players emerging in the top six.  Lagos won a trophy and a cash prize of N100,000. Delta and Akwa Ibom came second and third best respectively .   Wellington Jighere, the 2016 WESPAC world scrabble champion finished 14th on the score table with 14 wins and +1076 cumulative spread.
Mr Olatunde Oduwole  joined the elite group of Nigeria National Scrabble Champions with his victory at the 2016 Asaph Zadok National Scrabble Championship held from the 15th to 17th of April in Abuja.  He emerged the best among 61 other top Nigeria-based Scrabble players including current World Scrabble Champion Jighere Wellington whom he edged out on cumulative points after both players had garnered 19 wins each in 24 rounds. The World Champion had led the pack for most of the tournament until round 22, the first round of the King of the Hill when Oduwole beat him  363-455 to momentarily take the top spot. Mr Jighere took the next game (round 23) 443-418 to regain the leadership with a point which meant Oduwole had to beat him in the final round to take the title. This Oduwole did 497-399 to finish first and become the National Scrabble Champion with 19 points and a cummulative spread of +1856. Wellington with 19 wins +1180 was first runner-up while former African Champion Mr Rex Ogbakpa came third with a tally of 17-1-6 +938.
The National Scrabble Champion was later presented with the Green Jacket, a trophy and cash prize of 250,000 Naira. Cash prizes and plaques were also presented to the first and second best players and the best performing team. 62 players  including a female (Sule Success) drawn from State Scrabble Associations after qualifiers at the State level competed at the National Championship. Click here for final results of the championship.
[intense_gallery type="thickbox" size="square150" id="1968" include="1972,1971,1970,1969,1966" no_link="1" show_tooltip="0"]
The Asaph Zadok National Scrabble Championship is slated for Friday 15th - Sunday 17th April 2016. Arrival is Thursday 14th April. Games commence on Friday 15th April. A total of 24 games will be played over a three day period. Friday - 9 games, Saturday - 9 games and Sunday - 6 games. Venue(tentative) - National Stadium Package B.
Participants are selected from qualifying tournaments from participating states. Each State is represented by 4 players with 2 reserve players.
The Championship will produce the National Champion  who will receive a  Gold medal (and a Green Jacket) plus  N 150, 000.00 prize money. The first runner up will take home a Silver medal  and N100, 000.00 cash prize while the second-runner-up prize is a Bronze medal and N50,000.00 cash prize. The overall  Best State will collect  a trophy and N100, 000.00.
The 8th edition of the Godswill Akpabio International Scrabble Classics was concluded on Sunday the 28th September 2014. Current Scrabble World Champion Nigel Richards became the second non-Nigerian to win the coveted prize. He carted home the top prize of twenty thousand US dollars $20,000 after 28 games. He won 21 games with a total spread of +1797 points. Former African Champion Jighere Wellington came second with 19 wins and +807 spread while Olatunde Oduwole came third with 19 wins and +739 spread. Full results and game statistics of the Masters can be found here.
In the Intermediate category Ezinore George came first with 20 wins out of 28 games and a +990 spread followed closely by Evruje James 19 wins +1375 and Etua Larry 19 wins +778 spread in second and third place respectively. For full results in this category click here . The Open category was won by John Aiyedun 20/24 +1626 spread. In 2nd and 3rd place respectively were Adekunle Ayo (17/24 +1413 spread) and Ohwonohwo Rutherford (17/24 +1295 ). The Ladies category had 42 ladies in attendance with 24 games played. The first prize went to Ekaba Dorcas who had 19.5/24 +1948, beating Lawrence Adesola (19/24 +557) and Yeribo Zini (16.5/24 +1400) to the second and third position respectively. In the Veteran category Odulele Rotimi came first with 22/28 +1695, with Barr. Aquaisua Edet coming second with 20/28 +1318 while Majemite Prince came third with 19/28 +1067. Full results: Open Ladies Veterans
The tournament was attended by over 400 players including elementary school children with the NSF Board members and officials presiding. The opening ceremony was attended by the Akwa Ibom state Commissioner of Health who gave a talk on prevention and control of the current Ebola epidermic in W/Africa. The closing ceremony and banquet was presided over by the State Deputy Governor Valerie Ebe who presented the trophy to the Champion Nigel Richards assisted by commissioner for Sports and the representative of the Minister of Sports Mr Bolaji Ojo-Oba along with NSF president Suleiman Gora and other board members.