Members of Nigeria's squad to the forthcoming Scrabble World Championship holding later this month in Las Vegas, Nevada, USA, dominated the top places at the just concluded 3rd edition of Governor Douye Diri National Championship.
Las Vegas bound Enoch Tochukwu Nwali, dropped just three games to emerge champion after two days of grueling competition among the top 50 Masters players. He secured 12 wins and a cumulative points of plus 705.
Another member of Team Nigeria to the World Championship, Nsikak Etim who won the Engineer Toke Aka National Jubilee Championship and also the defending champion, came a close second with 11 wins and plus 726 cumulative points ahead of Emmanuel Ofidi who recorded 11 wins but with a lower cumulative points of 343.
Former World Champion Wellington Jighere who started the final day of the championship in the 36th spot navigated his way into the top ten. His 9 wins and a plus 580 cumulative points kept Jighere in the 9th position ahead of Doko Oluwatimilehin another member of Team Nigeria in the 10th spot with 9 wins and plus 576 cumulative points on the final table of the championship named after the current Governor of Bayelsa State, His Excellency Senator Douye Diri.
It is interesting to note that no player has been able to defend the Masters title successively. In 2021, Oshivere Avwenegha was crowded champion and a year later, he was dethroned by Nsikak Etim a former African Champion.
Enoch Nwali took the top honour this year along with half a million cash prize.
 Masters Category Top Ten
Enoch Nwali 12 wins +705
Nsikak Etim 11 wins +726
Emmanuel Ofidi 11 wins +343
Godwin Victor 10 wins +775
Wasiu Hassan 10 wins +355
Igali Precious 10 wins +255
Moses Peter 10 wins +254
Emmanuel Umujose 9 +658
Wellington Jighere 9 wins +580
Doko Oluwatimilehin 9 wins +576
The Opens title went to Clement Ijegbulem, Chuks Nwaeze came second while Tariyei Alari completed the podium in third place.
Ojior Osikhena who won the Veterans category in first edition of the championship, beat the 24 man field to take the Veteran top position in year's event. Azu Ogbogu and Dokun Esan were second and third respectively in the Veterans category.
John Adeleke won the Youth (students) category with 7 wins and plus 1221 cumulative points. August Shanon came second while Edide Pereowei came third.
Over three million naira was shared among the top ranked competitors in the tournament.
As reported by Maxwell Kumoye (NSF Media and Publicity)
The 3rd annual Governor Douye Diri National Scrabble Championship will hold in Yenagoa, Bayelsa State from the 8th to the 9th of July 2023.
The maiden edition of the Engineer Toke Aka Jubilee National Scrabble Championship will be held at the Hotel de Bentley in Utako-district, Abuja on the 17th of June. Interested players can click here to register and make payment online immediately or offline
The Jubilee National Championship as well as a Scrabble Retreat is to celebrate the 60th anniversary of the Managing Director of Kadegg Ltd who is also the President of Nigeria Scrabble Federation (NSF) Chief Engineer Toke Aka.
The 2023 NSF Inter-Club Challenge Grand Finale will hold in Abuja as part of activities of the week-long 1st NSF Scrabble Festival Abuja from Friday 24th to Sunday 26th of March 2023. (more…)
The general guidelines that would govern the Asaph Zadok National Scrabble Championship which scheduled to hold from 20th - 22nd March, 2023 in Abuja, are as detailed below:
Eligibility
Eligible States: All states and the FCT.
Eligible Players: All Players Licensed (through NSF Affiliated Clubs which they belong) for the 2022/2023 Scrabble season.
Participation and Representatives
All states/FCT shall enter a minimum of 1 player and a maximum of 6 players as representative(s).
Registration
Player Registration: A sum of 10,000 only shall be paid as player registration for each player entered by a state/FCT to participate in the Championship.
State Affiliation: Every State/FCT must pay her State Affiliation fee of 30,000.0 only for 2023 to the Scrabble Federation.
Number of Games
A total number of 28 games shall be played over 3 days for the purpose of the National Championship.
Schedule:
Day 1 - 10 games
Day 2 - 10 games
Day 3 - 8 games
Entries Submission Deadline
Deadline for submission of player/s entries by states/FCT is Wednesday 15th March, 2023.
Activities Schedule
 Arrivals/ Accreditation/ Briefing 19th March, 2023
Opening/Games - Day 1 20th March, 2023
Games - Day 2 21st March, 2023
Games - Day 3/Ratings 22nd March, 2023
Game Rules
All current WESPA & NSF Rules/ Guidelines will apply during the Qualifiers/Grand Finale, except otherwise stated.
Dictionary
Collins Scrabble Words (CSW) 2021 - Updated.
Time Allotment
25 minutes will be allotted each player per game/round.
Please note: Any further information would be communicated accordingly by the Technical Director John Curtis.
The Nigeria Scrabble Federation (FCT Zone) invites you to the 2022 Abuja National Scrabble Open Tournament which will be held from Saturday the 1st to Sunday the 2nd of October 2022 at the Media Center Package A, National Stadium Abuja. Games start at 8.30 am on Saturday, the 1st of October. (more…)
The second edition of the Governor Douye Diri National Scrabble Championship will take place in Yenagoa, Bayelsa State from July 15 to 17 2022. Over five million nairas in prize monies will be won by participants in the competition.
Date
July 15-17, 2022
Venue
Chief DSP Alamieyeseigha Memorial Banquet Hall, Yenagoa
Prizes
Masters
1st (+ Trophy) N500,000.00
2nd (+ Trophy) N350,000.00
3rd (+ Trophy) N250,000.00
4th N150,000.00
5th N100,000.00
6th N55,000.00
7th N40,000.00
8th N35,000.00
9th N32,000.00
10th N30,000.00
11th N28,000.00
12th N25,000.00
13th N25,000.00
14th N25,000.00
15th N25,000.00
Best Female - N50,000.00 (Masters)
Intermediate Category
1st ( + Trophy) N300,000.00
2nd ( + Trophy) N210,000.00
3rd ( + Trophy) N150,000.00
4th N90,000.00
5th N60,000.00
6th N35,000.00
7th N25,000.00
8th N21,000.00
9th N19,000.00
10th N18,000.00
11th N17,000.00
12th N15,000.00
13th N15,000.00
14th N15,000.00
15th N15,000.00
16th N15,000.00
17th N15,000.00
18th N15,000.00
19th N15,000.00
20th N15,000.00
Consolation Prizes for three (3) Best Female (Intermediate) – N40,000.00, N30,000 & N20,000 respectively
Open Category
1st N180,000.00
2nd N125,000.00
3rd N90,000.00
4th N55,000.00
5th N35,000.00
6th N20,000.00
7th N15,000.00
8th N13,000.00
9th N12,000.00
10th N11,000.00
11th N10,000.00
12th N10,000.00
13th N10,000.00
14th N10,000.00
15th N10,000.00
16th N10,000.00
17th N10,000.00
18th N10,000.00
19th N10,000.00
20th N10,000.00
Consolation Prizes for three (3) Best Female in Open – N30,000.00, N20,000 & N10,000 respectively
Veteran Category
1st N250,000.00
2nd N175,000.00
3rd N125,000.00
4th N75,000.00
5th N50,000.00
6th N30,000.00
7th N25,000.00
8th N15,000.00
9th N15,000.00
Consolation Prize for one (1) Best Female – N45,000.00
All consolation prizes for females will be given irrespective of whether the person has won other prizes or not.
Students Category
1st N44,000.00
2nd N25,000.00
3rd N15,000.00
4th N10,000.00
5th N5,000.00
Registration
1. Masters - N10,000
2. Intermediate - N7000
3. Veterans - N7000
4. Opens - N5000
5. Students - Free (not above 16yrs. Students must be of Bayelsa origin and in a school in Bayelsa state)
Registration closes Thursday, July 14, 2022. Registration fee should be paid to:
Account name: Bayelsa State Scrabble Association
Account number: 1214067584
Zenith Bank
Contact Bayelsa Scrabble Association on 08062394553 for more information.
The Nigeria Scrabble Federation in conjunction with the Kano State Scrabble Association invites you to the 18th Kano National Open Scrabble Competition from Saturday 26th to Sunday 27th of February 2022 at Kano Club (Scrabble Section), No. 2, Bompai Road, Kano. (more…)
The first edition of the Nigeria Grandmasters Scrabble Championships tagged Champion of Champions was successfully concluded today 5th December 2021 in Benin, Edo State. The competition, endorsed by the Nigeria Scrabble Federation, was organized by Words and Wits, a Scrabble event conglomerate based in Benin and headed by the current Vice President Mr. Bright Idahosa. It featured forty-four (44) players invited by the organizers based on past and current performances in the Nigeria Scrabble circuit including former World and African Scrabble champion, Jighere Wellington, former African champions, Moses Peter and Nsikak Etim, and a host of former National champions including Olatunde Oduwole. Among other invited players were former youth player Enoch Nwali (a member of Team Nigeria at the maiden Gladiators Virtual Scrabble tournament),  and team members Omosefe Prince, Ofidi Emmanuel, Umujose Emma, Oshevire Avwenagha, and Anthony Odok.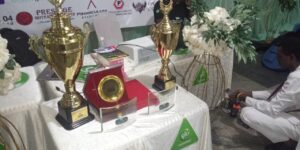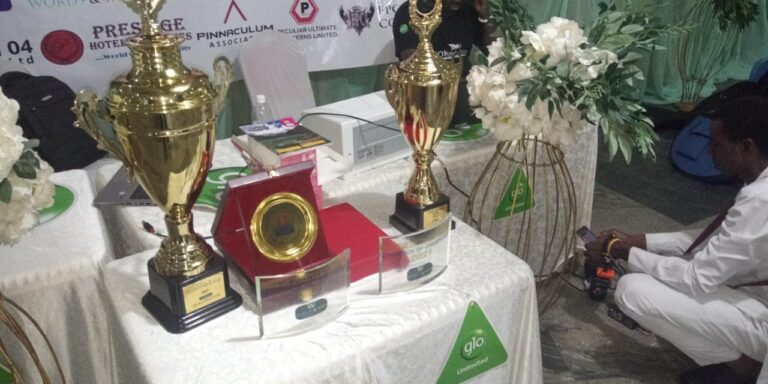 A total of 21 games were played at the three-day championship. The first phase tagged the King of the Park phase was won by Jighere Wellington. Thereafter the two best players viz Jighere Wellington (who won the first phase and the Scrabble King trophy) and Olatunde Oduwole, the first runner-up moved on to play the best-of-three Challenge phase. Tunde Oduwole eventually triumphed to emerge as the winner of the maiden Champion of Champions competition and the Champions trophy. Over two million naira was shared by the top players with the King of the Park winner Jighere Wellington taking home N500,000 (five hundred thousand).
The organizers have indicated that the competition will be an annual event and the next edition will be bigger to accommodate more established and upcoming Scrabble players with the aim of further development of the game in Nigeria. Click here for round-by-round results, standings, and player statistics of the competition.
The 19th Edition of the National Sports Festival is slated for the 6th - 16th of December 2018.
The Nigeria Scrabble Federation will be using the ratings after Owerri as cut off for the festival.
Masters 1500 and Above.
Intermediate 1200 to I499
Open unrated to 1199
The events to be competed for are
Singles Men- Masters, Intermediate and Open.
Doubles Men- Masters, Intermediate and Open.
Team Men- Masters, Intermediate and Open.
Women ( Single and Double)
A total of 33 games to be played over five days.
Programme
6th - Arrival (All-States)
7th - Accreditation (All States)
8th - Briefing with NSF Technical Officials, VIP Lounge Abuja National Stadium Package A, 12noon.
9th - Briefing with State Officials, VIP Lounge Abuja National Stadium Package A, 12noon.
10th- Open Competition (Registration N1,000) Five Games.
11th- Singles Event (Masters, Intermediate & Open Men and Women) - 8 Games
12th- Singles Event (Masters, Intermediate & Open Men and Women) - 7 Games
13th- Doubles Event (Masters, Intermediate & Open Men and Women) - 5 Games
14th - Doubles Event (Masters, Intermediate & Open Men and Women) - 5 Games
15th - Team Event (Masters, Intermediate & Open Men) - 8 Games
All athletes must have their complete equipment to participate.
This edition is open to all based on state representation, no restrictions whatsoever.
Umar Faruq Baba-Inna (Technical Director NSF)