Jighere Wellington outscored 43 other players representing all the states of the Federation to become the Asaph Zadok National Scrabble Champion held from Friday 23rd to Sunday 25th August 2019. The annual event named in honour of the former Grand Patron of the NSF, was held at the VIP Lounge of the Moshood Abiola Stadium, Abuja. The tournament was graced with the presence of the Honorable Minister of Sports, Mr Sunday Dare on the opening day. The minister revealed his delight in meeting the Nigeria Scrabble players and officials. He also expressed his belief that the National Championships "deserves more media coverage and support" on his Twitter handle.
With five games remaining it was evident that this year's national champion title was between three former African Champions viz Wellington, Moses Peter (defending National Champion) and Dennis Ikekeregor.
The ongoing National Scrabbles Championship deserves more media coverage and support, as do other sports. - Sunday Dare (Hon. Minister of Sports)
Wellington took over the lead from Moses Peter at round 21 by beating him 529-286 on Table 1 but by round 23 it was Dennis who occupied the apex leading with a point after a heavy 487-299 win against Wellington. The final round (24) was going to be the decider. Going into the final round, Wellington (18-5 +1957) paired against Ikekeregor needed only to win by any margin because of his hefty +1957 spread. Ikekeregor (19-4 +1241) needed at least a draw as he had the highest points while Moses (18-5 +1066) playing against Oshevire Avwenagha on table 2 could only aim for the second position.
Wellington showed resilience to beat Ikekeregor 407-374 for the title while defending champion, Moses Peter defeated Oshevire Avwenagha 516-355 to finish in second place. Ikekeregor finished in third while former national champion Olatunde Oduwole and Igali Precious placed fourth and fifth respectively.
GM Wellington who represented Delta State was presented with a trophy, two-hundred thousand naira cash prize and the traditional Green Jacket by the President NSF, Suleiman Gora at the closing ceremony. Delta State also won the Best State Trophy with Bayelsa and Oyo, the first and second runners-up respectively.
Nigeria's five-man team to the maiden Alchemist Cup finished in 4th place as the tournament ended yesterday (9th December 2018) in Penang, Malaysia. Members of the team include the reigning African Champion, Moses Peter, Eta Karo, Olatunde Oduwole and Etim Nsikan who all competed in the 13th Africa Scrabble Championship (Kenya 2018). After the tournament, they immediately jetted out from Kenya to Malaysia to join the fifth member of the team Saidu Ayorinde.
The Alchemist Cup is an elite invitational Scrabble tournament. Ten teams of five players per team will play a schedule where each player plays the 45 players from teams other than their own. The event is organized by Mr Micheal Tang who also organises the Causeway Challenge. The maiden event had teams from the best Scrabble playing nations in the world (with WESPA rating as at 28 Oct) viz Nigeria (mean rating 2065, the highest), USA (2048), Australia (eventual champions- mean rating 2043), New Zealand (1971),  Thailand (1962), Singapore (1896) and Malaysia (1886). They were joined by teams from Rest of the World (1960), East Africa (1785) and Rest of Asia (1785). A total of 45 games was played over 5 days from the 5th to 9th of December 2018.
Team Performance
The Nigerian team performed creditably considering the fact that the bulk of the team barely had time to rest after the ASC in Kenya. Results from the event website showed that our team never placed lower than the 5th position all through the 5-day event. Nigeria won 27 rounds and had 126.5 points with a spread of +4908 which placed her in the fourth position overall.
Nigeria
ASAI
EKAR
MPET
NETI
OODU
Games = 126.5
22
27
29
23
25.5
Spread +4908
+855
+1033
+1518
+1035
+467
Mean
429
442
460
442
437
Team Performance Table (courtesy Alchemist Cup website )
Australia won 31 rounds (with 133 points and +2739 spread) to finish as champions, the USA was first runner-up with 31 rounds, 131 points and a spread of +5362 while the Rest of the World team came third with 30 round wins, 125 points and +2609 spread. East Africa finished in 10th place (11 rounds won, 78.5 points and a spread of -6386).  The Champion team won USD 10000, second placed team USD 5000 while the third-placed team took home USD 3000.
Individual Standings
Ganesh Asirvatham of Malaysia won the top Individual Prize (for those not in the top 3 teams) of  USD 1000 with 31 wins and a spread of +2560. Nigel Richards (NZL) 31 +1499 and Thacha Koowirat (THA) 30 +1880 won USD 600 and USD 400 respectively as the 2nd and 3rd best performing players for those outside the top 3 teams.
1st Ganesh Asirvatham (MYS) 31 +2560
2nd Adam Logan (ROW) 31 +2174
3rd Nigel Richards (NZL) 31 +1499
4th Thacha Koowirat (THA) 30 +1880
5th Conrad Bassett-Bouchard (USA) 30 +1332
6th Moses Peter (NGA) 29 +1518
7th Austin Shin (ROW) 29 +1431
8th Panupol Sujjayakorn (THA) 29 +642
9th David Wiegand (USA) 28 +1776
10th Naween Fernando (AUS) 28 +788
14th Eta Karo (NGA) 27 +1033
17th Olatunde Oduwole (NGA) 25.5 +467
23th Nsikan Etim (NGA) 23 +1035
26th Ayorinde Saidu (NGA) 22 +855
Nigeria yet again proved to be the dominant force in African Scrabble by retaining the Africa Scrabble Championship title at the 13th ASC held in Kenya from November 28 to December 2, 2018. The National Scrabble team took the top three positions at the 4 day event won by current National Champion (2018) Moses Peter who had 26 points and a spread of +2051. Former African champion Jighere Wellington was first runner-up with 22 points (+2083) while Eta Karo came third with 21 points (+88). Four other Nigerians were also placed in the top ten (10) positions at the end of the 32-round tournment ensuring that Nigeria also successfully retained the Best Team title won in Ghana in 2016.
The new champion Moses Peter (who was also team captain of the squad) displayed the strong form that won him the National Scrabble Championship title earlier this year (July 2018) and runner-up at the WESPAC Championship last year (November 2017) from the start of the tournament. He won his first 5 games and was consistently among the top 5 on the standings to the very end, a feat that ensured he had effectively won the title by round 30 with 2 games to spare.
Other members of the team performed brilliantly, with members of the team in the 5th, 8th, 9th, 10th, 15th, 25th, 26th and 38th positions ensuring that 7 Nigerian were in the top 10 prize table. Sixty-two players from seven African countries attended the tournament. The countries are Nigeria, hosts Kenya, Uganda, Sierra Leone, Gambia, Tanzania and Zambia. At the end of the event, team Nigeria topped the team performance charts with a mean spread of +1722, an average rank of 3.8 and a win rate of 63.73% playing against players from other countries. Kenya took the team runner-up position with a average spread of -626.2, an average rank of 10.0 and 46.98% performance against others.
Team Nigeria Position
26–6 +2051 Peter, Moses Champion
22–10 +2083 Jighere, Wellington 2nd
21–11 +88 Karo, Eta 3rd
20–12 +974 Ikekeregor, Dennis 5th
19–13 +1083 Etim, Nsikan 8th
19–13 +804 Gbaraba, Raymond 9th
19–13 +659 Oduwole, Olatunde 10th
18–14 +456 Ojior, Osikhena 15th
16½–15½ +269 Alli, Oyebola 25th
16–16 +326 Olobatoke, Aka 26th
15–17 −183 Oluwaseun, Oyeleke 38th
Prize Table
1 Rank: 1st 350000+Trophy Peter, Moses (#3/NGA) 26-6 +2051
2 Rank: 2nd 200000+Trophy Jighere, Wellington (#1/NGA) 22-10 +2083
3 Rank: 3rd 100000+Trophy Karo, Eta (#2/NGA) 21-11 +88
4 Rank: 4th 50000 Oyende, Allan (#7/KEN) 20.5-11.5 +1027
5 Rank: 5th 30000 Ikekeregor, Dennis (#4/NGA) 20-12 +974
6 Rank: 6th 20000 Edwin-Mugisha, Phillip (#14/UGA) 20-12 +900
7 Rank: 7th 15000 Njoroge, Stanley (#16/KEN) 19.5-12.5 -336
8 Rank: 8th 15000 Etim, Nsikan (#5/NGA) 19-13 +1083
9 Rank: 9th 10000 Gbaraba, Raymond (#15/NGA) 19-13 +804
10 Rank: 10th 10000 Oduwole, Olatunde (#6/NGA) 19-13 +659
Nigeria successfully defended her title as the best Scrabble playing nation at the 2nd edition of WESPAC (World English Language Scrabble Players Association Championship) tournament held from the 6th to 12th of November 2017 in Nairobi, Kenya. The championship tournament featured 119 players from 30 countries who played 32 round-robin games each at the end of which two finalists emerged. At the first edition of WESPAC held in 2015 in Perth, Australia, Nigeria's Jighere Wellington emerged world champion. This edition also produced a superlative performance from another Nigerian, Mr Moses Peter, a top Scrabble player and captain of our team.
The finalist
Moses Peter finished the 32 games in second (2nd) place with 22 wins +1762 behind Akshay Bhandarkar of Bahrain who had 23 wins and +1082 spread. The two players played a best-of-7 finals where Moses Peter gallantly lost 3-4.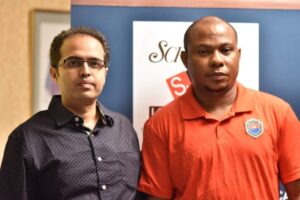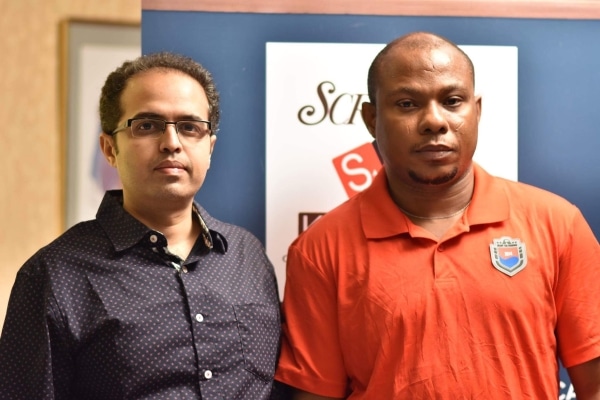 Bhandarkar won the 1st and 3rd games. Moses Peter made sure he was not left behind by winning the 2nd and 4th games. He then pulled ahead with a 3rd win in the 5th game. Bhandarkar then needed to win the last 2 games for the title which he did. For his efforts, Bhandarkar went home with $7,000 and a trophy while Peter got $6,000 and a trophy. In third place was Nigel Richards of New Zealand, arguably the best player on the planet whom Peter had to defeat in round 32 to qualify for the finals.
Strongest Scrabble Playing Nation
Overall, our representatives were expected to put up a formidable challenge at the tournament and they did not disappoint. 2016 champion Wellington Jighere with 21 wins +1181 spread, finished strongly in fourth place while Olaiya Kabir (6th), Eta Karo (9th) and Dennis Ikekeregor (13th) also rallied to ensure Nigeria dominated the top 15 places. Worthy of note also in 11th position was former African champion, Nigeria's Femi Awowade who represented England at the championship. With the team performance, Nigeria retained her title as WESPAC Best Scrabble Playing Nation.
Team Nigeria in no particular order (position after 32 rounds in brackets)
Moses Peter  (2nd) - qualified for final
Dennis Ikekeregor (13th)
 Eta Karo (9th)
Wellington Jighere  (4th)
 Dipo Akanbi (72nd)
Nsikak Etim  (31st)
Olaiya Kabir (6th)
Olatunde Oduwole (28th)
Tuoyo Mayuku (64th)
Ben Quickpen (44th)
Ojior Oshikena (56th)
Curtis John (22nd)
Dayo Tayo (57th)
Mpakaboari Jack (60th)
Photos used courtesy of the 2017 WESPAC event website and various sources online.