Nigeria Scrabble Federation (NSF) officials and the National Scrabble Team are prepared to retain the Africa Scrabble Championship title at the 14th edition starting in Lusaka, Zambia on Friday 21st October 2022. The NSF President Engr Olobatoke Aka said this in an interview with the media on Monday, just before jetting out with the national team to Zambia for the tournament.
The national team arrived Lusaka, Zambia on Tuesday 18th October in high spirits along with the senior team coach Anthony Ikolo and the Secretary General, the Vice President and the NSF President who is the leader of the team.
Nigeria has won the African title thirteen times. The last edition of the tournament hosted by Kenya in 2018 was won by Nigeria's Moses Peter. Nigeria will feature a 17 (seventeen) player team in this tournament. The team includes three female players, three former African title holders (Ikekeregor Dennis, Jighere Wellington and Etim Nsikak) and the team captain Oshevire Avwenagha.
The tournament commences on Friday the 21st and runs through Monday the 24th of October 2022.
Nigeria yet again proved to be the dominant force in African Scrabble by retaining the Africa Scrabble Championship title at the 13th ASC held in Kenya from November 28 to December 2, 2018. The National Scrabble team took the top three positions at the 4 day event won by current National Champion (2018) Moses Peter who had 26 points and a spread of +2051. Former African champion Jighere Wellington was first runner-up with 22 points (+2083) while Eta Karo came third with 21 points (+88). Four other Nigerians were also placed in the top ten (10) positions at the end of the 32-round tournment ensuring that Nigeria also successfully retained the Best Team title won in Ghana in 2016.
The new champion Moses Peter (who was also team captain of the squad) displayed the strong form that won him the National Scrabble Championship title earlier this year (July 2018) and runner-up at the WESPAC Championship last year (November 2017) from the start of the tournament. He won his first 5 games and was consistently among the top 5 on the standings to the very end, a feat that ensured he had effectively won the title by round 30 with 2 games to spare.
Other members of the team performed brilliantly, with members of the team in the 5th, 8th, 9th, 10th, 15th, 25th, 26th and 38th positions ensuring that 7 Nigerian were in the top 10 prize table. Sixty-two players from seven African countries attended the tournament. The countries are Nigeria, hosts Kenya, Uganda, Sierra Leone, Gambia, Tanzania and Zambia. At the end of the event, team Nigeria topped the team performance charts with a mean spread of +1722, an average rank of 3.8 and a win rate of 63.73% playing against players from other countries. Kenya took the team runner-up position with a average spread of -626.2, an average rank of 10.0 and 46.98% performance against others.
Team Nigeria Position
26–6 +2051 Peter, Moses Champion
22–10 +2083 Jighere, Wellington 2nd
21–11 +88 Karo, Eta 3rd
20–12 +974 Ikekeregor, Dennis 5th
19–13 +1083 Etim, Nsikan 8th
19–13 +804 Gbaraba, Raymond 9th
19–13 +659 Oduwole, Olatunde 10th
18–14 +456 Ojior, Osikhena 15th
16½–15½ +269 Alli, Oyebola 25th
16–16 +326 Olobatoke, Aka 26th
15–17 −183 Oluwaseun, Oyeleke 38th
Prize Table
1 Rank: 1st 350000+Trophy Peter, Moses (#3/NGA) 26-6 +2051
2 Rank: 2nd 200000+Trophy Jighere, Wellington (#1/NGA) 22-10 +2083
3 Rank: 3rd 100000+Trophy Karo, Eta (#2/NGA) 21-11 +88
4 Rank: 4th 50000 Oyende, Allan (#7/KEN) 20.5-11.5 +1027
5 Rank: 5th 30000 Ikekeregor, Dennis (#4/NGA) 20-12 +974
6 Rank: 6th 20000 Edwin-Mugisha, Phillip (#14/UGA) 20-12 +900
7 Rank: 7th 15000 Njoroge, Stanley (#16/KEN) 19.5-12.5 -336
8 Rank: 8th 15000 Etim, Nsikan (#5/NGA) 19-13 +1083
9 Rank: 9th 10000 Gbaraba, Raymond (#15/NGA) 19-13 +804
10 Rank: 10th 10000 Oduwole, Olatunde (#6/NGA) 19-13 +659
Scrabble Kenya and the Pan African Scrabble Association (PANASA) invites all member federations to the 13th (thirteenth) edition of the Africa Scrabble Championship holding in Kenya.
The event is based on country representation.
The event will be held from the 28th November to 2nd December 2018 in Kirinyaga County. Kirinyaga County is a county in the former Central Province of Kenya. Its capital is Kutus and its largest town is Wanguru. In 2009, the county had a population of 528,054 and an area of 1,205.4 km². It is a one to two hours journey from Nairobi.
Each country will field the qualified fifteen players following the country-specific selection process (an additional 5 wildcards can be fielded in consultation with the PANASA secretariat).
The registration fee is $250 per player with country registration at $100 per federation. A total of 32 games will be played over 4 days with awards for the top 10 and country trophies.
To this end, the Nigeria Scrabble Federation has written to the Federal Ministry of Youths and Sports Development for sponsorship.
Team Nigeria will depart for Kenya on Monday 26th November to defend her title won in 2016 (Ghana) by Saidu Ayorinde.
The National Senior Team Coach of the Nigeria Scrabble Federation (NSF), Mr Ikolo Anthony has invited twenty-two players to 5-day training camp in Port-Harcourt. The camping in collaboration with Total E&P Scrabble Club, Port-Harcourt is part of the process to select the teams that will represent Nigeria at this year's Africa Scrabble Championships, World Scrabble Championships and the Alchemist Cup holding in Gambia, England and Malaysia respectively. The camping will be held between the 21st - 25th of May 2018 at Total E&P Staff Club, Ogoja Street Amadi Flats Old GRA, Port Harcourt. Rivers State.
The list of invitees include fifteen top-rated home-based players viz
 Wellington Jighere 1847
 Eta Karo 1761
Dennis Ikekeregor 1759
Cyril Umebiye 1755
 Tuoyo Mayuku 1738
 Ezinore George 1704
Moses Peter 1691
Nsikak Etim 1677
Noble Onoshevwe 1675
Ewruje James 1662
Segun Durojaye 1642
Dipo Akanbi 1636
Oshevire Avwenagha 1626
Quickpen Ben 1616
Prince Omosefe 1611
Four (4) players were given wild cards
Sule Success - female player
Oshodi Sunday - host
Osikhena Ojior - host
Raymond Gbaraba - host
Three (3) players were invited based on outstanding performance in recent tournaments and club retreats. They are:
Enoch Nwali
Munanyo Vincent - Intermediate winner, NSPC 5
Atti Daystar - Opens winner, NSPC 5
Players will be provided accommodation, feeding (at least 1 free meal/day) and tea breaks as necessary.
Arrival date is Sunday, May 20, 2018. All invited players are expected to come with their complete scrabble playing materials. In addition, all players are expected to have been licensed and of good behaviour with respect to constituted authorities.
Invited players have until May 18, 2018, to give their consent to participate to NSF Technical Director, Mallam Faruq Baba - Inna (08036207546) and the Coach Senior Team (08023361200).
Location: Kesdem Hotel, Tema, Ghana, West of Africa. Date: 18th of December 2016. Event: 12th Africa Scrabble Championship.
It was the last day of the thirty-two round 4 day tournament and the new king of Scrabble in Africa was about to be crowned. Nigeria had taken a formidable team of 21 players to the tourney including 4 previous winners of the tourney viz Ikekeregor Dennis (2004,2006), Jighere Wellington (2008,2010), Rex Ogbakpa (2012) and the defending champion Nsikan Etim (2014). Team Nigeria's performance was looking good going into the last rounds with at least eight out of the top ten places occupied by Nigerians with two Kenyans (Njoroge Stanley and Nderitu Gitonga) giving Team Nigeria a run for her money.
ASC 2016 Trophies
5th seed Ayorinde Saidu had displayed his intention of being a serious contender for the African title by establishing a foothold among the top 5 midway into the tourney. By round 20 he had usurped compatriot Oshevire Avwenagha from the top spot. From that round onwards he parried all attempts to displace him from the summit, the strongest and most consistent threat coming from 6th seed Nderitu Gitonga. Gitonga eventually caught up on points with Saidu after winning round 29. They had equal wins (20 wins each), Saidu however had superior cummulative margin and they they were to face each other again in round 30. It was evident that whoever won the next round will have the edge going into the final two. Round 30 proved to be dramatic! Leading Saidu 380 - 317 with no tiles left in the bag, Nderitu chose to play GUTCHES* an unacceptable word which was challenged off instead of blocking the only spot where Saidu could play a bingo (i.e use all his 7 tiles). That was all Saidu needed to play RAILERS a bingo and win 423 - 380 to regain the 1 point lead. You can play back that game. After dispatching former Africa Champion Rex Ogbakpa 575 - 479 in the penultimate round (round 31), Saidu had established an unassailable lead of 2 points (23 wins, 9 losses) over the nearest competitor becoming the 12th African Scrabble Champion and the 11th Nigerian to win the title.
Nigeria's Eta Karo (10) beat 4th seed Ogbakpa Rex in the last round to finish as the first runner-up (2nd) while 13th seed Umebiye Cyril dispatched Nderitu Gitonga 489 - 393 to finish in 3rd place. Nigeria was also adjudged the best team with a mean post-tourney rank of 17.7 followed by Kenya and Ghana in that order.
Visit the event page
Play back recorded (annotated) games
Round 32 Board 2 Karo, Eta (NGA) vs. Ogbakpa, Rex (NGA)
KOH Round 31 Board 1 Saidu, Ayorinde (NGA) vs Ogbakpa, Rex (NGA)
KOH Round 30 Board 1 Saidu, Ayorinde (NGA) vs Nderitu, Gitonga (KEN)
KOH Round 29 Board 1 Nderitu, Gitonga (KEN) vs. Saidu, Ayorinde (NGA)
KOH Round 28 Board 1 Saidu, Ayorinde (NGA) vs. Ogbakpa, Rex (NGA)
KOH Round 27 Board 1 Nderitu, Gitonga (KEN) vs. Saidu, Ayorinde (NGA)
Round 26 Board 1 Saidu, Ayorinde (NGA) vs. Etim, Nsikak (NGA)
Round 24 Board 1 Mutahi, Martins (KEN) vs. Saidu, Ayorinde (NGA)
Round 23 Board 1 Ogbakpa, Rex (NGA) vs. Saidu, Ayorinde (NGA)
Round 22 Board 1 Saidu, Ayorinde (NGA) vs. Oyende, Allan (KEN)
Round 21 Board 1 Saidu, Ayorinde (NGA) vs. Jighere, Wellington (NGA)
Round 20 Board 1 Jighere, Wellington (NGA) vs. Avwenagha, Oshevire (NGA)
Round 19 Board 1 Saidu, Ayorinde (NGA) vs. Omosefe, Prince (NGA)
Round 18 Board 1 Saidu, Ayorinde (NGA) vs. Nderitu, Gitonga (KEN)
Round 17 Board 1 Avwenagha, Oshevire (NGA) vs. Saidu, Ayorinde (NGA)
Round 16 Board 1 Edwin-Mugisha, Phillip (UGA) vs. Avwenagha, Oshevire (NGA)
Round 15 Board 1 Avwenagha, Oshevire (NGA) vs. Idahosa Bright (NGR)
Round 6 Board 1 Avwenagha, Oshevire (NGA) vs. Etim, Nsikak (NGA)
Round 10 Board 1 Avwenagha, Oshevire (NGA) vs. Nwangi Willy (KEN)
Round 9 Board 1 Avwenagha, Oshevire (NGA) vs. Tachie-Menson, Charles (GHA)
Round 7 Board 1 Avwenagha, Oshevire (NGA) vs. Tachie-Menson, Charles (GHA)
Nigeria dominated Africa Scrabble with yet another superlative performance at the 11th edition of the Africa Scrabble Championship (ASC) held in Cape Town, South Africa from the 25th - 28th of October 2014. Mr Nsikak Etim of Nigeria became the eleventh (11th) Africa Scrabble champion and the eighth (8th) Nigerian player to win the prize award of USD 5000 (five thousand dollars). After thirty-two (32) rounds of Scrabble spanning three days in a field of 62 (sixty-two) players, he won 22 games with a cumulative spread of +1725 to beat compatriot Olatunde Oduwole (21 points +1436) to the second (2nd) position. Prince Omosefe with 21 points and a spread of +1077 placed third (3rd) to complete Nigeria's sweep of the top prizes at the ASC 2014. Mr Etim's performance takes Nigeria's ASC title haul to 10 (ten) out of eleven editions of the championship since it's inception in 1994 in Kenya.
Nigeria took the top nine position with Messrs Dennis Ikekeregor, Ayorinde Saidu, Karo Eta, Moses Peter, Kabir Olaiya and Owolabi Lukeman in that order placing fourth to ninth. This feat which earned Nigeria the overall best team award. Mr Dokun Esan carted home the highest win award of USD 100 for his 650-291 win against Dennis Ikekeregor. Former African champion (2002) and the only non-Nigeria to ever hold the title, South Africa's Hovelmeier Trevor took the 10th (tenth) position to complete the top ten best Africa Scrabble players at the end of the tournament. The next edition of the event will be held in 2016 in Gambia.
Team Nigeria Final Result

1st 22 +1725 Nsikak Etim- ASC Champion
2nd 21 +1436 Olatunde Oduwole
3rd 21 +1077 Prince Omosefe
4th 21 +749 Dennis Ikekeregor
5th 21 +588 Ayorinde Saidu
6th 20 +648 Karo Eta
7th 19½ +248 Moses Peter
8th 19½ +151 Kabir Olaiya
9th 19 +866 Owolabi Lukeman
14th 18 +789 Ogbakpa Rex
15th 18 +757 Sanni Moshood
16th 18 +447 Dokun Esan
18th 17½ +1000 Jighere Wellington
21th 17 +502 Olobatoke Aka
22nd 17 +451 Anthony Ikolo
25th 16½ +1268 Mayuku Tuoyo
33rd 16−654 Sulaiman Gora
49th 13½ +821 Faruk Baba-Inna
50th 13½ −722 Bassey Umoh
[ult_button buttonlink="http://tourneys.nigeriascrabble.com/asc/11th/all/index.html" buttonsize="large" color="ffffff" hovercolor="#1e73be" backgroundcolor="#1e73be" hoverbgcolor="#ffffff" icon="" rel=""]Click here for Full Results and Player Stats[/ult_button]
Top Nigerian Scrabble players and officials have arrived Cape Town, South Africa venue of the 11th edition of the Africa Scrabble Championship. The event starts from the 25th of October and ends on the 28th of October, 2014.  The team led by President of the Nigeria Scrabble Federation, Alh Suleiman Gora is expected to repeat Nigeria's dominance of the game in Africa by retaining the trophy won at the 10th ASC by Rex Ogbakpa the defending champion who is also a member of the current team. Nigeria has won 9 of the previous 10 editions of the championships. Two members of the Nigerian team Jighere Wellington and Ikekeregor Dennis have been crowned Africa Scrabble Champion twice.  62 players representing 6 African countries are participating at this year's championship.
Players List
Jighere Wellington

Eta Karo

Olatunde Oduwole

Ogbakpa Rex

Dennis Ikereregor

Ayorinde Saidu

Nsikak Etim

Prince Omosefe

Kabir Olaiya

Moshood Sanni


Moses Peter

Owolabi Lukeman

Anthony Ikolo (Coach/Player)


Olobatoke Aka

Faruk BabaInna

Sulaiman Garba

Bassey Umoh

Oladokun Esan

Beatrice Touyo Mayuku
You can follow the 2014 ASC results here.
Nigeria has won the 2012 edition of the African Scrabble Championship held between the 22nd - 26th of November in Livingstone Zambia. The championship (the 10th edition) was won by Rex Ogbakpa a member of the Nigerian contingent which consisted of 12 players and 4 officials. 4 countries competed at the tournament viz Kenya, Nigeria, South Africa, Uganda and host Zambia with a combined total of 49 players. Rex Ogbakpa runner-up at the 2012 Godswill Akpabio Int. Classics and a member of the Uyo Scrabble Club achieved the feat by winning 21 (+1639 margin) of the 30 games played. He was closely followed by Owolabi Lukeman (20 wins +1171) and Omosefe Prince (who lost to Ogbakpa in the final game) with 19.5points +1369.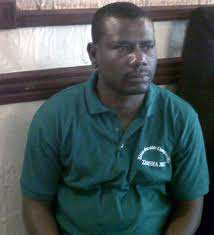 Nigeria picked the first 5 spots at the championship in addition to the 8-11th positions. Kenya's Nderitu Gitonga and Mugisha Phillip-Edwin of Uganda were the only non-Nigerians in the top 10 at the end of the championship. All players featured by Nigeria at the event finished within the top half of the field. The only non-Nigerian to have ever won the tournament, South Africa's Trevor Hovelmeier who participated in the event placed a distant 26th. Nigeria also won the Best Team award and the Best Female player award through Mayuku Tuoyo.
Standings after Round 30
RankWon-LostSpreadPlayer
| | | | |
| --- | --- | --- | --- |
| 1 | 21–9 | +1639 | Ogbakpa, Rex (#2/Nigeria) |
| 2 | 20–10 | +1171 | Owolabi, Lukeman (#5/Nigeria) |
| 3 | 19½–10½ | +1369 | Omosefe, Prince (#3/Nigeria) |
| 4 | 19–11 | +762 | Etim, Nsikan (#4/Nigeria) |
| 5 | 18½–11½ | +862 | Karo, Eta (#1/Nigeria) |
| 6 | 18–12 | +1394 | Nderitu, Gitonga (#14/Kenya) |
| 7 | 18–12 | +672 | Mugisha, Phillip-Edwin (#37/Uganda) |
| 8 | 18–12 | +642 | Mayuku, Tuoyo (#9/Nigeria) |
| 9 | 18–12 | +620 | Kabir, Olaiya (#7/Nigeria) |
| 10 | 18–12 | +109 | Victor, Owokere (#11/Nigeria) |
| 11 | 17½–12½ | +728 | Bright, Idahosa (#10/Nigeria) |
| 12 | 17–13 | +1031 | Oyende, Allan (#19/Kenya) |
| 13 | 17–13 | +555 | Otieno, Manase (#20/Kenya) |
| 14 | 17–13 | +374 | Mbugua, Nicholas (#15/Kenya) |
| 15 | 17–13 | +362 | Hromnik, Tristan (#36/SA) |
| 16 | 17–13 | +83 | Mwangi, Willy (#17/Kenya) |
| 17 | 16½–13½ | −89 | Chavutia, Joseph (#25/Kenya) |
| 18 | 16½–13½ | −198 | Kimani, Macharia (#13/Kenya) |
| 19 | 16–14 | +1099 | Ogbogu, Azu (#6/Nigeria) |
| 20 | 16–14 | +685 | Litunya, Patrick (#18/Kenya) |
| 21 | 16–14 | +349 | Page, Jarrod (#28/SA) |
| 22 | 16–14 | +217 | Sodje, Paul (#8/Nigeria) |
| 23 | 16–14 | −12 | Faruq, Baba-Inna (#12/Nigeria) |
| 24 | 16–14 | −222 | Hossy, Debbe (#29/SA) |
| 25 | 16–14 | −388 | Outi, Tobias (#22/Kenya) |
| 26 | 15½–14½ | +268 | Hovelmeier, Trevor (#27/SA) |
| 27 | 15½–14½ | −284 | Wheelwright, Fern (#32/SA) |
| 28 | 15–15 | +939 | Kangethe, David (#21/Kenya) |
| 29 | 15–15 | +310 | Kariuki, Charles (#26/Kenya) |
| 30 | 15–15 | −117 | Mwape, Isaac (#42/Zambia) |
| 31 | 15–15 | −213 | Munkonge, Mwenya (#40/Zambia) |
| 32 | 15–15 | −214 | Ngosa, Mwila (#44/Zambia) |
| 33 | 15–15 | −281 | Ruto, Cecilia (#23/Kenya) |
| 34 | 15–15 | −720 | Kambikambi, Mubanga (#48/Zambia) |
| 35 | 14½–15½ | −144 | Mutahi, Martins (#24/Kenya) |
| 36 | 14½–15½ | −224 | Ntege, Chris (#38/Uganda) |
| 37 | 14–16 | +160 | Njoroge, Stanley (#16/Kenya) |
| 38 | 14–16 | −203 | Tresha, Dominic (#45/Zambia) |
| 39 | 14–16 | −730 | Milukuti, Sydney (#49/Zambia) |
| 40 | 13½–16½ | −461 | Rayner, Howard (#33/SA) |
| 41 | 13½–16½ | −724 | Davids, Gerald (#31/SA) |
| 42 | 13–17 | +37 | Mpundu, Patrick (#39/Zambia) |
| 43 | 12½–17½ | −674 | Keet, Duncan (#30/SA) |
| 44 | 12–18 | −516 | Koti, Clifford (#41/Zambia) |
| 45 | 11–19 | −1290 | Kalema, Sydney (#47/Zambia) |
| 46 | 10–20 | −241 | Botha, Mary (#34/SA) |
| 47 | 9–21 | −1748 | Chansa, Justin (#51/Zambia) |
| 48 | 9–21 | −1859 | Brey, Zubeida (#35/SA) |
| 49 | 6–24 | −2335 | Moonga, Levy (#52/Zambia) |
Hosts and Past Winners of ASC
EditionHostYearWinner
| | | | |
| --- | --- | --- | --- |
| 1st | Kenya | 1994 | Ifeanyi Onyeonwu NGR |
| 2nd | Nigeria | 1996 | Femi Awowade NGR |
| 3rd | South Africa | 1998 | Jimoh Saheed NGR |
| 4th | Ghana | 2000 | Moshood Sanni NGR |
| 5th | Kenya | 2002 | Trevor Hovelmeier SA |
| 6th | Tanzania | 2004 | Dennis Ikekeregor NGR |
| 7th | Nigeria | 2006 | Dennis Ikekeregor NGR |
| 8th | Kenya | 2008 | Jighere Wellington NGR |
| 9th | Ghana | 2010 | Jighere Wellington NGR |
| 10th | Zambia | 2012 | Rex Ogbakpa NGR |