Nigeria Scrabble Federation earlier this week on Sunday 8th and Monday 9th of May 2022 conducted trial tournaments to select a formidable team for the 2022 West Africa Scrabble Championships (WASC) holding in Ghana from 16th to 18th of May 2022.
Thirty-eight top Nigerian players were invited to participate in the qualifying tournaments including two female and three youth players.
In the first 2022 NSF WASC qualifying tourney, Eta Karo, young Doko Oluwatimilehin, and Nsikak Etim topped the charts in the first, second, and third positions respectively, while Oshevire Avwenagha, Enoch Nwali (youth) and Ezinore George placed first, second and third respectively in the second 2022 NSF WASC trial tournament.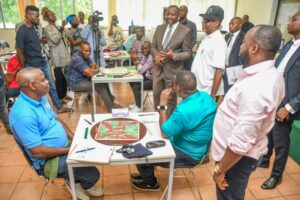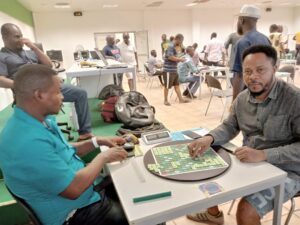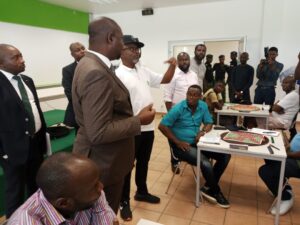 The honorable Minister of Youths and Sports Mr. Sunday Dare paid a morale-boosting visit to the officials and players at the trials. He was received by the NSF President Chief Toke Aka along with other NSF board members; Vice President Mr. Bright Idahosa, the Secretary-General Mr. Abimbola Adesiyan, and the NSF Technical Director Mr. Curtis John amongst others.
A team of 10 players made the final list of players selected to represent Nigeria at the tournament. They are:
Ezinore George
Doko Oluwatimilehin
Ehibudu Chukwudi
Oshevire Avwenagha
Enoch Nwali
Nsikak Etim
Olatunde Oduwole
Eta Karo
Umujose Emmanuel
Wellington Jighere
The team leaves Nigeria for Ghana on Friday 13th May after a brief closed camping session in Abuja.