The 29th edition of the Asaph Zadok National Scrabble Championship begins today at the National Stadium Abuja as part of the Festival of Scrabble this week from the 2oth to the 26th of March 2023.  Fifty-eight (58) players will be competing for the Green Jacket - the ultimate symbol of Scrabble Mastery in Nigeria. The players were drawn from eleven states and will be joined by 4 (four) NSF wildcard players and players from the Nigerian Navy.  2019 winner and defending champion Wellington Jighere is among the top Scrabble players who shall compete for honors.  Other top players like Eta Karo (2005 champion), Dipo Akanbi (2017 champion), Dennis Ikekeregor, Emmanuel Umujose, and Olatunde Oduwole (winner, 2016) are also among the top contenders for the prize. (more…)
Malafakumo Akpos of Bayelsa state overcame all opposition to pick the Gold medal in the Female Singles event at the National Sports Festival in Asaba Delta State. (more…)
The second edition of the Governor Douye Diri National Scrabble Championship will take place in Yenagoa, Bayelsa State from July 15 to 17 2022. Over five million nairas in prize monies will be won by participants in the competition.
Date
July 15-17, 2022
Venue
Chief DSP Alamieyeseigha Memorial Banquet Hall, Yenagoa
Prizes
Masters
1st (+ Trophy) N500,000.00
2nd (+ Trophy) N350,000.00
3rd (+ Trophy) N250,000.00
4th N150,000.00
5th N100,000.00
6th N55,000.00
7th N40,000.00
8th N35,000.00
9th N32,000.00
10th N30,000.00
11th N28,000.00
12th N25,000.00
13th N25,000.00
14th N25,000.00
15th N25,000.00
Best Female - N50,000.00 (Masters)
Intermediate Category
1st ( + Trophy) N300,000.00
2nd ( + Trophy) N210,000.00
3rd ( + Trophy) N150,000.00
4th N90,000.00
5th N60,000.00
6th N35,000.00
7th N25,000.00
8th N21,000.00
9th N19,000.00
10th N18,000.00
11th N17,000.00
12th N15,000.00
13th N15,000.00
14th N15,000.00
15th N15,000.00
16th N15,000.00
17th N15,000.00
18th N15,000.00
19th N15,000.00
20th N15,000.00
Consolation Prizes for three (3) Best Female (Intermediate) – N40,000.00, N30,000 & N20,000 respectively
Open Category
1st N180,000.00
2nd N125,000.00
3rd N90,000.00
4th N55,000.00
5th N35,000.00
6th N20,000.00
7th N15,000.00
8th N13,000.00
9th N12,000.00
10th N11,000.00
11th N10,000.00
12th N10,000.00
13th N10,000.00
14th N10,000.00
15th N10,000.00
16th N10,000.00
17th N10,000.00
18th N10,000.00
19th N10,000.00
20th N10,000.00
Consolation Prizes for three (3) Best Female in Open – N30,000.00, N20,000 & N10,000 respectively
Veteran Category
1st N250,000.00
2nd N175,000.00
3rd N125,000.00
4th N75,000.00
5th N50,000.00
6th N30,000.00
7th N25,000.00
8th N15,000.00
9th N15,000.00
Consolation Prize for one (1) Best Female – N45,000.00
All consolation prizes for females will be given irrespective of whether the person has won other prizes or not.
Students Category
1st N44,000.00
2nd N25,000.00
3rd N15,000.00
4th N10,000.00
5th N5,000.00
Registration
1. Masters - N10,000
2. Intermediate - N7000
3. Veterans - N7000
4. Opens - N5000
5. Students - Free (not above 16yrs. Students must be of Bayelsa origin and in a school in Bayelsa state)
Registration closes Thursday, July 14, 2022. Registration fee should be paid to:
Account name: Bayelsa State Scrabble Association
Account number: 1214067584
Zenith Bank
Contact Bayelsa Scrabble Association on 08062394553 for more information.
Secondary Schools Spelling Bee and Scrabble Competition was held from 4th to 5th of May 2018 Intercontinental College Kano.
Medals Table for Spelling Bee and Scrabble
| School | GOLD | SILVER | BRONZE |
| --- | --- | --- | --- |
| Intercontinental | 3 | 2 | |
| Spring College | 1 | 2 | 2 |
| St Thomas | 1 | 2 | |
| St Louis | 1 | 1 | |
| First Grade School | 1 | 2 | |
Results: Spelling Bee.
Written Junior Secondary
Gold Medal- Khadijah Abdul Muhammad - Intercontinental College Tarauni.
Silver Medal - Dominion Uujamhan - St Thomas Secondary School.
Bronze Medal - Fatimah Ibrahim Adam - First Grade Comprehensive Secondary School.
Written Senior Secondary
Gold Medal- Aisha Babangida Jino - Spring Secondary School.
Silver Medal - Deborah Okegbile - St Louis Secondary School.
Bronze Medal - Bara'atu Abdul Muhammed - Intercontinental College.
Oral Junior Secondary
  Gold Medal- Dominion Uujamhan - St Thomas Secondary School.
  Silver Medal - Khadijah Mohammed Aliyu - Spring Secondary School.
  Bronze Medal - Khadijah Abdul Muhammad - Intercontinental College Tarauni.
Oral Senior Secondary
 Gold Medal- Deborah Okegbile - St Louis Secondary School.
 Silver Medal - Zainab Salisu Lawal - First Grade Comprehensive School.
Bronze Medal -Aisha Babangida Jino - Spring Secondary School.
Results: Scrabble
Results after Round 5 - Doubles
Rank
School
Wins
Margin
1
Intercontinental School
4
593
2
Spring Secondary School
4
82
3
First Grade Comprehensive
3
14
4
St Thomas Secondary School
3
-8
5
Rumfa College
3
-109
6
St Louis School
2
110
7
Brilliant Academy
1
-125
8
Government Technical
0
-557
HIGH GAME: Intercontinental School 390
Results after Round 5 - Singles
Rank
Player
Wins
Margin
School
1
Fatima Tahir
5
621
Intercontinental College
2
Solomon Bashir
3
344
St Thomas Secondary School
3
Sultan Atanda
3
265
Spring Secondary School
4
Hajara Abubakar
3
-53
First Grade Comprehensive College
5
Eze Ashley
3
-118
St Louis Secondary School
6
Abdullahi Abdullahi
1
-216
Rumfa College
7
Abdulsamad Muhammed
1
-308
Government Technical College Nassarawa
8
Usman Bello
1
-535
Brilliant Academy
HIGH GAME: Fatima Tahir 362
Winifred Awosika Foundation a non profit, non-governmental organization focusing on the well being of children and women has been promoting the game among school children for the past few years. This year, the foundation has decided to give her annual youth Scrabble tournament, the Winifred Awosika Scrabble Tournament for Schools (WASTFS) a national outlook with the inclusion of qualifiers from each of the 6 geo-political zones.
The tournament is restricted to primary school pupils only. There will be zonal preliminaries in each zone at the zonal headquarters comprising of 3 qualifiers from each state in a particular zone.
At the end of the preliminaries, three players each will emerge to represent each zone. Lagos and Abuja are not inclusive as special arrangements are already in place for their representatives to emerge.
The qualifiers and one chaperone each for each state will be sponsored by the foundation to Lagos Chrisland School in Opebi Lagos where the finals will take place in May.
Participating students (youths) will be given T-shirts and bags while gifts will be given to participating schools. There will be medals and trophies for winning schools with cash prizes for top (youth) player and school. Find details of the cash prizes below.
Prizes
1st Prize:  School: N100,000  Individual:N150,000
2nd Prize: School: N100,000 Individual: N100,000
3rd Prize: School: N70,000 Individual: N80,000
4th Prize: School: N40,000  Individual: N60,000
5th-8th: N20,000 each (Individual)
Date: 31st May - 2nd June 2018
Venue: Chrisland High School, Opebi, Lagos
Nigeria successfully defended her title as the best Scrabble playing nation at the 2nd edition of WESPAC (World English Language Scrabble Players Association Championship) tournament held from the 6th to 12th of November 2017 in Nairobi, Kenya. The championship tournament featured 119 players from 30 countries who played 32 round-robin games each at the end of which two finalists emerged. At the first edition of WESPAC held in 2015 in Perth, Australia, Nigeria's Jighere Wellington emerged world champion. This edition also produced a superlative performance from another Nigerian, Mr Moses Peter, a top Scrabble player and captain of our team.
The finalist
Moses Peter finished the 32 games in second (2nd) place with 22 wins +1762 behind Akshay Bhandarkar of Bahrain who had 23 wins and +1082 spread. The two players played a best-of-7 finals where Moses Peter gallantly lost 3-4.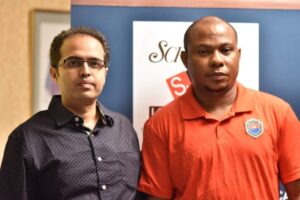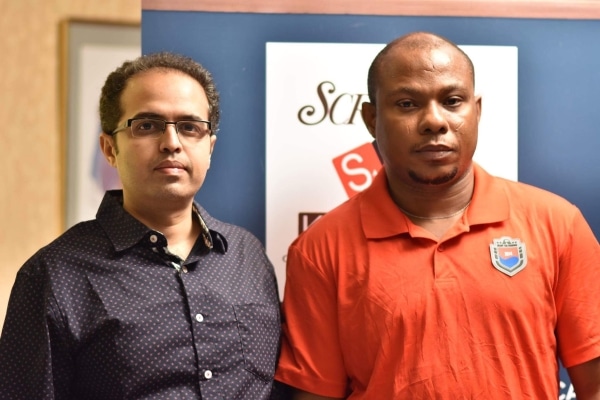 Bhandarkar won the 1st and 3rd games. Moses Peter made sure he was not left behind by winning the 2nd and 4th games. He then pulled ahead with a 3rd win in the 5th game. Bhandarkar then needed to win the last 2 games for the title which he did. For his efforts, Bhandarkar went home with $7,000 and a trophy while Peter got $6,000 and a trophy. In third place was Nigel Richards of New Zealand, arguably the best player on the planet whom Peter had to defeat in round 32 to qualify for the finals.
Strongest Scrabble Playing Nation
Overall, our representatives were expected to put up a formidable challenge at the tournament and they did not disappoint. 2016 champion Wellington Jighere with 21 wins +1181 spread, finished strongly in fourth place while Olaiya Kabir (6th), Eta Karo (9th) and Dennis Ikekeregor (13th) also rallied to ensure Nigeria dominated the top 15 places. Worthy of note also in 11th position was former African champion, Nigeria's Femi Awowade who represented England at the championship. With the team performance, Nigeria retained her title as WESPAC Best Scrabble Playing Nation.
Team Nigeria in no particular order (position after 32 rounds in brackets)
Moses Peter  (2nd) - qualified for final
Dennis Ikekeregor (13th)
 Eta Karo (9th)
Wellington Jighere  (4th)
 Dipo Akanbi (72nd)
Nsikak Etim  (31st)
Olaiya Kabir (6th)
Olatunde Oduwole (28th)
Tuoyo Mayuku (64th)
Ben Quickpen (44th)
Ojior Oshikena (56th)
Curtis John (22nd)
Dayo Tayo (57th)
Mpakaboari Jack (60th)
Photos used courtesy of the 2017 WESPAC event website and various sources online.
Mind Games Incorporated invites the Scrabble community and the general public to the maiden edition of Nigerian MindGames Festival. The event will be held between 2nd - 5th November 2017 at Kakanfo Inn and Conference Center 1 Nihinlola Street Off Ring Road,  Joyce B Road, Ibadan Nigeria. The 1st Nigerian MindGames Festival will feature Scrabble, Draughts and Chess events in different categories.
The Scrabble event comprises of Open, Intermediate and Masters categories. To participate in the 1st Nigerian MindGames Festival you must be an active member of Mind Games Incorporated.  Registration starts on 15th August 2017. Early registration ends October 15 2017. Late registration starts October 16 2017. All registrations end 22nd October 2017. Late registrations attract an N2,500 surcharge. Entries will not be accepted after 22nd October 2017.

Registration fee (Scrabble)
Open: N6000
Intermediate: N7000
Masters: N8500
Ladies: N5000
Credit/debit cards are accepted during registration on the MGI website. Players may also pay registration fees via bank deposits/transfers. Players are required to register online with their teller/bank deposit code as soon as bank deposits are made. Please make bank payments payable to the following account: PHILLUC ASSOCIATES NIG LTD  FCMB  403 100 4016
Format (Scrabble)
Dictionary:  CSW15
Rules: WESPA
Time control: 25 minutes/player, 10 points for every additional 1 minute.
Challenge Penalty: 10-point penalty (per move)
Pairing Software: TSH – Chew Pairing System
Rounds: 22 rounds with best of 3-final between top 2 finishers in Masters category, 25 straight rounds for other categories.
Categories:

Masters: NSF rating from 1450
Intermediate: rating below 1450 to 1200
Open: rating below 1200
Players can play up if they wish but playing down is not allowed.
For more information, please visit the 1st Nigerian MindGames Festival event page
Engr Dipo Akanbi, representing Lagos state, emerged the 2017 National Scrabble Champion by winning the 2017 edition of the Asaph Zadok  National Scrabble Championship held in Abuja. He won 18 games with an spread of +743 to dethrone 2016 national champion Olatunde Oduwole who finished in fourth place.  For his effort Dipo Akanbi won a cash prize of N150,000 along with a trophy and the green jacket signifying his admission into the elite group of Nigeria National Scrabble Champions.
Dayo Tayo, also of Lagos state, came second with 16.5 points and a spread of +346. He won a cash prize of N100,000. Moses Peter of Akwa Ibom came third with 16 wins and a +1351 spread, winning a cash prize of N50,000.
Team Lagos retained the title as the best state with five out of their six players emerging in the top six.  Lagos won a trophy and a cash prize of N100,000. Delta and Akwa Ibom came second and third best respectively .   Wellington Jighere, the 2016 WESPAC world scrabble champion finished 14th on the score table with 14 wins and +1076 cumulative spread.
Mr Olatunde Oduwole  joined the elite group of Nigeria National Scrabble Champions with his victory at the 2016 Asaph Zadok National Scrabble Championship held from the 15th to 17th of April in Abuja.  He emerged the best among 61 other top Nigeria-based Scrabble players including current World Scrabble Champion Jighere Wellington whom he edged out on cumulative points after both players had garnered 19 wins each in 24 rounds. The World Champion had led the pack for most of the tournament until round 22, the first round of the King of the Hill when Oduwole beat him  363-455 to momentarily take the top spot. Mr Jighere took the next game (round 23) 443-418 to regain the leadership with a point which meant Oduwole had to beat him in the final round to take the title. This Oduwole did 497-399 to finish first and become the National Scrabble Champion with 19 points and a cummulative spread of +1856. Wellington with 19 wins +1180 was first runner-up while former African Champion Mr Rex Ogbakpa came third with a tally of 17-1-6 +938.
The National Scrabble Champion was later presented with the Green Jacket, a trophy and cash prize of 250,000 Naira. Cash prizes and plaques were also presented to the first and second best players and the best performing team. 62 players  including a female (Sule Success) drawn from State Scrabble Associations after qualifiers at the State level competed at the National Championship. Click here for final results of the championship.
[intense_gallery type="thickbox" size="square150" id="1968" include="1972,1971,1970,1969,1966" no_link="1" show_tooltip="0"]
The Asaph Zadok National Scrabble Championship is slated for Friday 15th - Sunday 17th April 2016. Arrival is Thursday 14th April. Games commence on Friday 15th April. A total of 24 games will be played over a three day period. Friday - 9 games, Saturday - 9 games and Sunday - 6 games. Venue(tentative) - National Stadium Package B.
Participants are selected from qualifying tournaments from participating states. Each State is represented by 4 players with 2 reserve players.
The Championship will produce the National Champion  who will receive a  Gold medal (and a Green Jacket) plus  N 150, 000.00 prize money. The first runner up will take home a Silver medal  and N100, 000.00 cash prize while the second-runner-up prize is a Bronze medal and N50,000.00 cash prize. The overall  Best State will collect  a trophy and N100, 000.00.