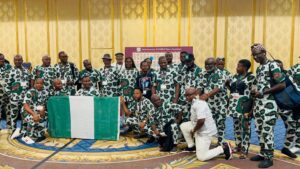 Nigeria completed her sojourn at the 2023 World Scrabble Championship in Las Vegas, Nevada, USA with a respectable fourth and second individual and team final position respectively. Thirty-two (32) preliminary games were played after which the top two players qualified for the best-of-seven finals. One hundred and thirty-five (135) players from twenty-nine (29) countries competed at the tournament.
(more…)
Senate President of the Federal Republic of Nigeria and Grand Patron of the Nigeria Scrabble Federation (NSF), Sen. Godswill Akpabio has charged members of Team Nigeria to the World Scrabble Championship in Las Vegas, Nevada, USA, to make the country proud at the event. He gave this charge to the team on Tuesday in his office when the team led by NSF President Engineer Toke Aka paid him a visit. (more…)
Nigeria Scrabble Federation (NSF) officials and the National Scrabble Team are prepared to retain the Africa Scrabble Championship title at the 14th edition starting in Lusaka, Zambia on Friday 21st October 2022. The NSF President Engr Olobatoke Aka said this in an interview with the media on Monday, just before jetting out with the national team to Zambia for the tournament.
The national team arrived Lusaka, Zambia on Tuesday 18th October in high spirits along with the senior team coach Anthony Ikolo and the Secretary General, the Vice President and the NSF President who is the leader of the team.
Nigeria has won the African title thirteen times. The last edition of the tournament hosted by Kenya in 2018 was won by Nigeria's Moses Peter. Nigeria will feature a 17 (seventeen) player team in this tournament. The team includes three female players, three former African title holders (Ikekeregor Dennis, Jighere Wellington and Etim Nsikak) and the team captain Oshevire Avwenagha.
The tournament commences on Friday the 21st and runs through Monday the 24th of October 2022.
The National Scrabble team led by the NSF President, Garba Gora successfully defended her 'Best Scrabble Team' trophy at the third edition of the WESPA Championship held in Goa, India. The Nigerian team had previously won the title at the inaugural WESPA championship in 2015 and successfully defended it at the last event in 2017.  Also, Nigel Richards (New Zealand) overcame stiff opposition from Jesse Day (USA) 4-3 in a gruelling seven-round final to join Jighere Wellington (2015) and Ashkay Bhandakar (2017/defending champion) as winners of the World English Scrabble Players Association (WESPA) Championship.
Nigeria Dominate Pre-Tournament Goa Open and the Indian Championship
Team Nigeria started brightly despite their late arrival to the tournament due to funding issues. At the 1-day pre-tournament (Goa Open) held on Wednesday 16th November, Nigeria's Emeka Mbagwu won the top prize, while Ojior Oshikhena and Jack Mpakaboari were first and second runners-up respectively. National coach, Anthony Ikolo and former president Toke Aka also picked the first and third-place prizes respectively in the A division of the Indian Open played from 18th to 20th November.
WESPAC Finals and Team Nigeria
In the main tournament, Nigeria was represented by Team Captain Moses Peter, former Champion Jighere Wellington, Olatunde Oduwole, Etim Nsikan, Dennis Ikekeregor, Ben Quickpen, Enoch Nwali, Eta Karo, Emmanuel Umujose, Bukunmi Afolayan (female) and Oshevire Avwenagha.  A total of 140 players from 32 countries participated in the tournament.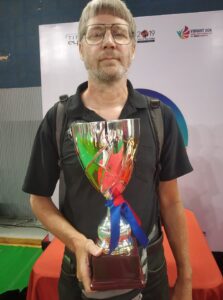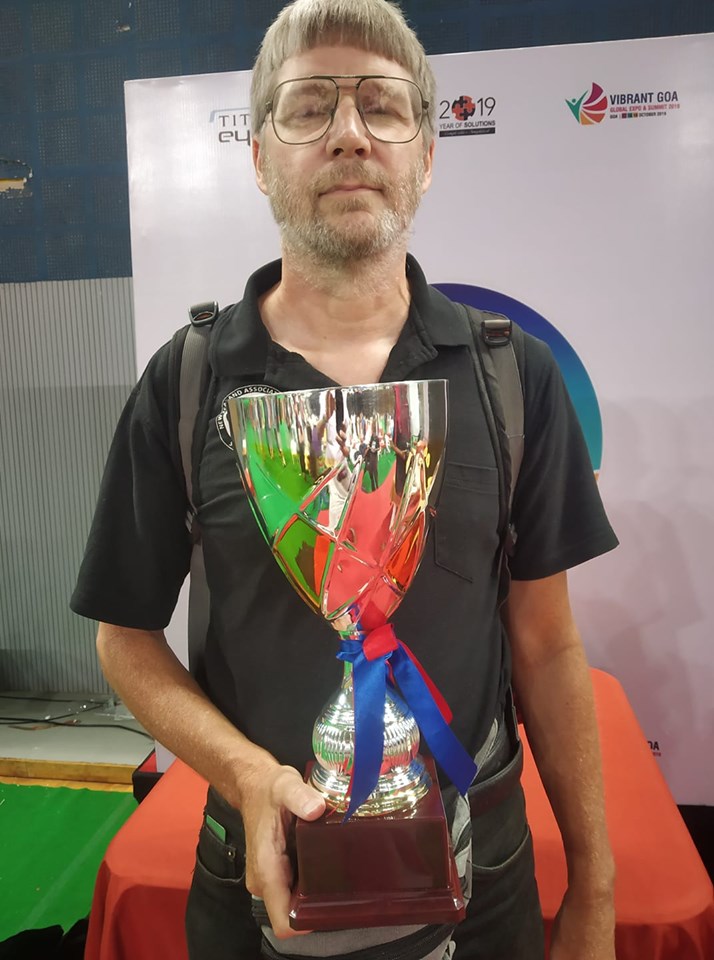 Acclaimed world best player, Nigel Richards triumphed after round 30 of the 32 game round-robin to qualify in style for the finals with two games to spare. Jesse Day later joined him in the finals, after subduing Oduwole (544-362) in round 31 and fellow American David Wiegand (520-328) in the final round. In the finals, Nigel Richards beat Day in the first (523-445) and second (424-403) rounds while the American hit back (459-363) in the third and (457-402) fourth rounds. Day won the fifth round (414-393) and Nigel had to dig deep for a 503-434 win in the sixth round to make the tally 3-3 and set up a nervy final round. Nigel Richard later won the 7th and final game 562-408 becoming the third winner from three different continents to win the prestigious title. Tacha Koowirat of Thailand finished in third place.
Overall team Nigeria put up a creditable performance at the main event with youthful Enoch Nwali who finished in 5th place at the forefront. The National Scrabble Team shrugged off stiff opposition from hosts India and the very strong Malaysia team to come first overall. The team finished with an average rank of 19.9 to finish ahead of India (25.4) and Malaysia (36.4) in the team (country) rankings.
Team Nigeria (Individual) Final Positions
Enoch Nwali - 5th
Ben Quickpen - 10th
Eta Karo - 11th
Olatunde Oduwole - 12th
Umujose Emmanuel - 16th
Dennis Ikekeregor - 23rd
Avwenegah Oshevire - 25th
Wellington Jighere - 30th
Nsikan Etim - 31st
Moses Peter - 36th
Bukunmi Afolayan - 58th
PANASA representatives and other Notable Performances
Other Pan African Scrabble Association (PANASA) members viz Kenya, Uganda, Sierra Leone and Ghana also had representatives at the championship. Kenya's Alan Oyende who finished in 17th place was the best-placed non-Nigerian PANASA member at the tournament. Nigerian-born Niyi Adebayo (117th) and Lukeman Owolabi (78th) played for Scotland and Ireland respectively. Teenage sensation Tarin Pairor (17 yrs) of Thailand who finished in 23rd place turned more than a few heads for his stellar performance at the tournament.
Photos








Scrabble Kenya and the Pan African Scrabble Association (PANASA) invites all member federations to the 13th (thirteenth) edition of the Africa Scrabble Championship holding in Kenya.
The event is based on country representation.
The event will be held from the 28th November to 2nd December 2018 in Kirinyaga County. Kirinyaga County is a county in the former Central Province of Kenya. Its capital is Kutus and its largest town is Wanguru. In 2009, the county had a population of 528,054 and an area of 1,205.4 km². It is a one to two hours journey from Nairobi.
Each country will field the qualified fifteen players following the country-specific selection process (an additional 5 wildcards can be fielded in consultation with the PANASA secretariat).
The registration fee is $250 per player with country registration at $100 per federation. A total of 32 games will be played over 4 days with awards for the top 10 and country trophies.
To this end, the Nigeria Scrabble Federation has written to the Federal Ministry of Youths and Sports Development for sponsorship.
Team Nigeria will depart for Kenya on Monday 26th November to defend her title won in 2016 (Ghana) by Saidu Ayorinde.
WESPA chairman Elie Dangoor has announced that GOA [note]Goa is a state in India within the coastal region known as the Konkan, in Western India. It is bounded by Maharashtra to the north and Karnataka to the east and south, with the Arabian Sea forming its Western coast. It is India's smallest state by area and the fourth smallest by population. Goa has the highest GDP per capita among all Indian states, that is two and a half times that of the country. It was ranked the 'best placed State' by the "Eleventh Finance Commission" for its infrastructure and ranked on top for the 'best quality of life' in India by the National Commission on Population based on the 12 Indicators. Source WikiPedia [/note] has won the right to host the World English-Language Scrabble Players' Association Championship WESPAC from 21st to 26th October 2019.
In a closely fought battle, Goa pipped Kuala Lumpur to host the next WESPAC. Thanks also to Trinidad & Tobago for an exciting bid. Both these places will hold great events in the not too distant future. More details and full article to come after June 8th, when Nick Ivanovski is back from holiday.
Cover photo by Satyajit Nayak - Own work, CC BY-SA 4.0, Link
The National Senior Team Coach of the Nigeria Scrabble Federation (NSF), Mr Ikolo Anthony has invited twenty-two players to 5-day training camp in Port-Harcourt. The camping in collaboration with Total E&P Scrabble Club, Port-Harcourt is part of the process to select the teams that will represent Nigeria at this year's Africa Scrabble Championships, World Scrabble Championships and the Alchemist Cup holding in Gambia, England and Malaysia respectively. The camping will be held between the 21st - 25th of May 2018 at Total E&P Staff Club, Ogoja Street Amadi Flats Old GRA, Port Harcourt. Rivers State.
The list of invitees include fifteen top-rated home-based players viz
 Wellington Jighere 1847
 Eta Karo 1761
Dennis Ikekeregor 1759
Cyril Umebiye 1755
 Tuoyo Mayuku 1738
 Ezinore George 1704
Moses Peter 1691
Nsikak Etim 1677
Noble Onoshevwe 1675
Ewruje James 1662
Segun Durojaye 1642
Dipo Akanbi 1636
Oshevire Avwenagha 1626
Quickpen Ben 1616
Prince Omosefe 1611
Four (4) players were given wild cards
Sule Success - female player
Oshodi Sunday - host
Osikhena Ojior - host
Raymond Gbaraba - host
Three (3) players were invited based on outstanding performance in recent tournaments and club retreats. They are:
Enoch Nwali
Munanyo Vincent - Intermediate winner, NSPC 5
Atti Daystar - Opens winner, NSPC 5
Players will be provided accommodation, feeding (at least 1 free meal/day) and tea breaks as necessary.
Arrival date is Sunday, May 20, 2018. All invited players are expected to come with their complete scrabble playing materials. In addition, all players are expected to have been licensed and of good behaviour with respect to constituted authorities.
Invited players have until May 18, 2018, to give their consent to participate to NSF Technical Director, Mallam Faruq Baba - Inna (08036207546) and the Coach Senior Team (08023361200).
Nigeria has been invited to the first edition of the Alchemist Cup to be held from 5th to 9th December 2018 in Penang, Malaysia. According to the Organizing Chairman, Micheal Tang,  the Alchemist Cup is a World Team event consisting of 10 teams with 5 players per team. Each team will play the other 9 teams or 45 games for a full round-robin. There will be "live" streaming of 1 game every round for 45 rounds.
Invited Teams
Nigeria
Australia
Malaysia
New Zealand
Singapore
Thailand
UK
USA
Rest of Asia
Rest of the World
Other Information
Qualification for 8 countries will depend on local Scrabble Association. Rest of Asia and Rest of World team will be on invitation only based on WESPA ratings.
Registration Fees: US$300
Prize Structure:
Champion team: US$10,000
1st runner-up team: US$5,000
2nd runner-up team: US$3,000
Individual prize for those who are not in Top 3 teams:
First: US$1,000
Second: US$600
Third: US$400
Hotel Venue: G Hotel Gurney, Penang, Malaysia
Compulsory Hotel package:
Check-in 4th Dec and Check-out 9th Dec (5 nights, 5 Breakfasts and 5 Lunches)
Double Occupancy: RM1,695 net or USD435 net per person
Single Occupancy: RM2,915 net or USD750 net per person
Nigeria successfully defended her title as the best Scrabble playing nation at the 2nd edition of WESPAC (World English Language Scrabble Players Association Championship) tournament held from the 6th to 12th of November 2017 in Nairobi, Kenya. The championship tournament featured 119 players from 30 countries who played 32 round-robin games each at the end of which two finalists emerged. At the first edition of WESPAC held in 2015 in Perth, Australia, Nigeria's Jighere Wellington emerged world champion. This edition also produced a superlative performance from another Nigerian, Mr Moses Peter, a top Scrabble player and captain of our team.
The finalist
Moses Peter finished the 32 games in second (2nd) place with 22 wins +1762 behind Akshay Bhandarkar of Bahrain who had 23 wins and +1082 spread. The two players played a best-of-7 finals where Moses Peter gallantly lost 3-4.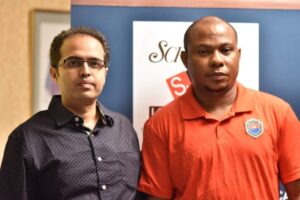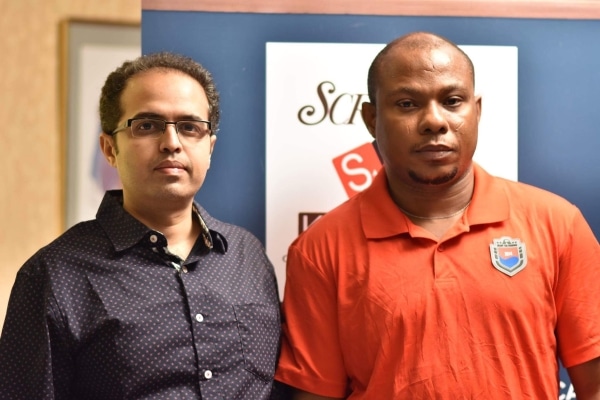 Bhandarkar won the 1st and 3rd games. Moses Peter made sure he was not left behind by winning the 2nd and 4th games. He then pulled ahead with a 3rd win in the 5th game. Bhandarkar then needed to win the last 2 games for the title which he did. For his efforts, Bhandarkar went home with $7,000 and a trophy while Peter got $6,000 and a trophy. In third place was Nigel Richards of New Zealand, arguably the best player on the planet whom Peter had to defeat in round 32 to qualify for the finals.
Strongest Scrabble Playing Nation
Overall, our representatives were expected to put up a formidable challenge at the tournament and they did not disappoint. 2016 champion Wellington Jighere with 21 wins +1181 spread, finished strongly in fourth place while Olaiya Kabir (6th), Eta Karo (9th) and Dennis Ikekeregor (13th) also rallied to ensure Nigeria dominated the top 15 places. Worthy of note also in 11th position was former African champion, Nigeria's Femi Awowade who represented England at the championship. With the team performance, Nigeria retained her title as WESPAC Best Scrabble Playing Nation.
Team Nigeria in no particular order (position after 32 rounds in brackets)
Moses Peter  (2nd) - qualified for final
Dennis Ikekeregor (13th)
 Eta Karo (9th)
Wellington Jighere  (4th)
 Dipo Akanbi (72nd)
Nsikak Etim  (31st)
Olaiya Kabir (6th)
Olatunde Oduwole (28th)
Tuoyo Mayuku (64th)
Ben Quickpen (44th)
Ojior Oshikena (56th)
Curtis John (22nd)
Dayo Tayo (57th)
Mpakaboari Jack (60th)
Photos used courtesy of the 2017 WESPAC event website and various sources online.
The 9th edition of the prestigious Scrabble Championship will be held from 27th to 3oth of September 2017 at Uyo, Akwa-Ibom State, South-South Nigeria. The tournament will be chaired by His Excellency, Senator Godswill Obot Akpabio (Pillar of Scrabble in Africa) and hosted by the Executive Governor, Akwa Ibom State, His Excellency Deacon Udom Gabriel Emmanuel. All players, local and international are invited to participate and enjoy great hospitality and the splendid tourism attractions the beautiful city of Uyo has on offer.
This years tournament will feature five (5) divisions including the Youth category for secondary and primary school students.  The eventual Champion will take home a trophy and the ten thousand US dollar (N4,000,000 or $10,000 ) cash prize. There are also prizes for the top performing ladies/female players. Detailed information on the prize distribution, registration, travel and other details are available here.
Please confirm your rating by clicking here before payment and registration. Rating after WESPAC Qualifiers shall be used for this tournament.
Registration has commenced. Click here to register.
[ult_button buttonlink="http://www.nigeriascrabble.com/event/9th-godswill-akpabio-international-scrabble-classics/" buttonsize="small" color="000000" hovercolor="none" backgroundcolor="FFFFFF" hoverbgcolor="none" icon="" rel=""]Click here for tournament details [/ult_button]