Nigeria now ranks #1 in the world in Scrabble championships.
Subscribe http://www.youtube.com/RootsTvNigeria
Check Out Our Website http://www.rootstv.ng
Facebook http://www.facebook.com/RootstvNg
Twitter http://www.twitter.com/RootstvNigeria
Instagram http://www.instagram.com/RootstvNigeria
Link: source
scrabble nigeria
nigeria scrabble federation
Veteran broadcaster, musician and one of the pioneers of the growth of Scrabble in Nigeria, Prince Gbade Sanda is dead. He passed away at the early hours of the 18th of November 2019 at the age of 70 years.
A graduate of Theatre Arts at the University of Ibadan, Prince Sanda was former General Manager of the Nigerian Television Authority (NTA), Ibadan. He also worked at the Broadcasting Corporation of Oyo State (BCOS) and was also formerly the Public Relations Manager of the defunct Savanah Bank of Nigeria. Prince Sanda was a member of veteran folk artiste Tunji Oyelana's Benders Band where he played the guitar.
Prince Gbade Sande was one of the founding fathers of Scrabble in Nigeria. He was the first Chairman, Ibadan Scrabble Club widely acknowledged as the oldest Scrabble club in Nigeria. Along with elder Segun Adegbenro, Femi Fadahunsi, elder Lanre Agoro, Gen. (Rtd) Gold Eburu and others, the first organized Scrabble club/association was inaugurated in Nigeria in 1987. In 1989, Prince Sanda was elected as the first President of the Scrabble Association of Nigeria (SCAN) which later metamorphosed to the NSF.
Prince Sanda will be laid to rest in Ibadan on Tuesday, 17th December 2019.
Photo credit: Femi Simpson
The National Scrabble team led by the NSF President, Garba Gora successfully defended her 'Best Scrabble Team' trophy at the third edition of the WESPA Championship held in Goa, India. The Nigerian team had previously won the title at the inaugural WESPA championship in 2015 and successfully defended it at the last event in 2017.  Also, Nigel Richards (New Zealand) overcame stiff opposition from Jesse Day (USA) 4-3 in a gruelling seven-round final to join Jighere Wellington (2015) and Ashkay Bhandakar (2017/defending champion) as winners of the World English Scrabble Players Association (WESPA) Championship.
Nigeria Dominate Pre-Tournament Goa Open and the Indian Championship
Team Nigeria started brightly despite their late arrival to the tournament due to funding issues. At the 1-day pre-tournament (Goa Open) held on Wednesday 16th November, Nigeria's Emeka Mbagwu won the top prize, while Ojior Oshikhena and Jack Mpakaboari were first and second runners-up respectively. National coach, Anthony Ikolo and former president Toke Aka also picked the first and third-place prizes respectively in the A division of the Indian Open played from 18th to 20th November.
WESPAC Finals and Team Nigeria
In the main tournament, Nigeria was represented by Team Captain Moses Peter, former Champion Jighere Wellington, Olatunde Oduwole, Etim Nsikan, Dennis Ikekeregor, Ben Quickpen, Enoch Nwali, Eta Karo, Emmanuel Umujose, Bukunmi Afolayan (female) and Oshevire Avwenagha.  A total of 140 players from 32 countries participated in the tournament.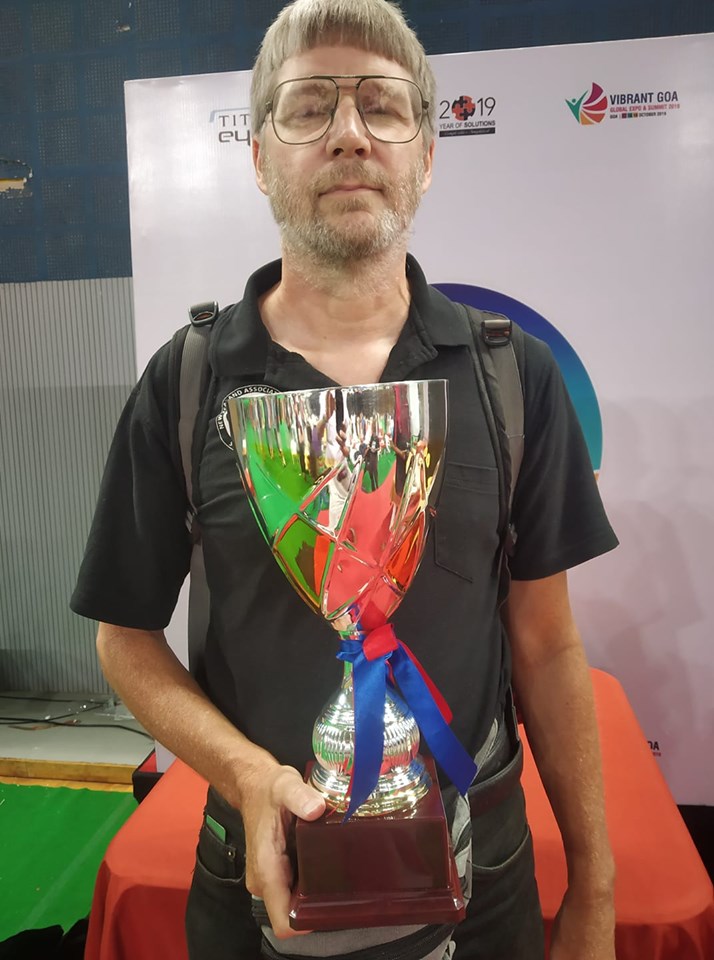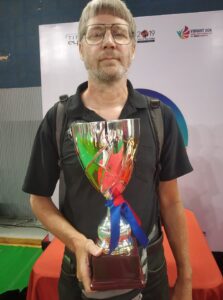 Acclaimed world best player, Nigel Richards triumphed after round 30 of the 32 game round-robin to qualify in style for the finals with two games to spare. Jesse Day later joined him in the finals, after subduing Oduwole (544-362) in round 31 and fellow American David Wiegand (520-328) in the final round. In the finals, Nigel Richards beat Day in the first (523-445) and second (424-403) rounds while the American hit back (459-363) in the third and (457-402) fourth rounds. Day won the fifth round (414-393) and Nigel had to dig deep for a 503-434 win in the sixth round to make the tally 3-3 and set up a nervy final round. Nigel Richard later won the 7th and final game 562-408 becoming the third winner from three different continents to win the prestigious title. Tacha Koowirat of Thailand finished in third place.
Overall team Nigeria put up a creditable performance at the main event with youthful Enoch Nwali who finished in 5th place at the forefront. The National Scrabble Team shrugged off stiff opposition from hosts India and the very strong Malaysia team to come first overall. The team finished with an average rank of 19.9 to finish ahead of India (25.4) and Malaysia (36.4) in the team (country) rankings.
Team Nigeria (Individual) Final Positions
Enoch Nwali - 5th
Ben Quickpen - 10th
Eta Karo - 11th
Olatunde Oduwole - 12th
Umujose Emmanuel - 16th
Dennis Ikekeregor - 23rd
Avwenegah Oshevire - 25th
Wellington Jighere - 30th
Nsikan Etim - 31st
Moses Peter - 36th
Bukunmi Afolayan - 58th
PANASA representatives and other Notable Performances
Other Pan African Scrabble Association (PANASA) members viz Kenya, Uganda, Sierra Leone and Ghana also had representatives at the championship. Kenya's Alan Oyende who finished in 17th place was the best-placed non-Nigerian PANASA member at the tournament. Nigerian-born Niyi Adebayo (117th) and Lukeman Owolabi (78th) played for Scotland and Ireland respectively. Teenage sensation Tarin Pairor (17 yrs) of Thailand who finished in 23rd place turned more than a few heads for his stellar performance at the tournament.
Photos








Jighere Wellington outscored 43 other players representing all the states of the Federation to become the Asaph Zadok National Scrabble Champion held from Friday 23rd to Sunday 25th August 2019. The annual event named in honour of the former Grand Patron of the NSF, was held at the VIP Lounge of the Moshood Abiola Stadium, Abuja. The tournament was graced with the presence of the Honorable Minister of Sports, Mr Sunday Dare on the opening day. The minister revealed his delight in meeting the Nigeria Scrabble players and officials. He also expressed his belief that the National Championships "deserves more media coverage and support" on his Twitter handle.
With five games remaining it was evident that this year's national champion title was between three former African Champions viz Wellington, Moses Peter (defending National Champion) and Dennis Ikekeregor.
The ongoing National Scrabbles Championship deserves more media coverage and support, as do other sports. - Sunday Dare (Hon. Minister of Sports)
Wellington took over the lead from Moses Peter at round 21 by beating him 529-286 on Table 1 but by round 23 it was Dennis who occupied the apex leading with a point after a heavy 487-299 win against Wellington. The final round (24) was going to be the decider. Going into the final round, Wellington (18-5 +1957) paired against Ikekeregor needed only to win by any margin because of his hefty +1957 spread. Ikekeregor (19-4 +1241) needed at least a draw as he had the highest points while Moses (18-5 +1066) playing against Oshevire Avwenagha on table 2 could only aim for the second position.
Wellington showed resilience to beat Ikekeregor 407-374 for the title while defending champion, Moses Peter defeated Oshevire Avwenagha 516-355 to finish in second place. Ikekeregor finished in third while former national champion Olatunde Oduwole and Igali Precious placed fourth and fifth respectively.
GM Wellington who represented Delta State was presented with a trophy, two-hundred thousand naira cash prize and the traditional Green Jacket by the President NSF, Suleiman Gora at the closing ceremony. Delta State also won the Best State Trophy with Bayelsa and Oyo, the first and second runners-up respectively.
Collins released the much promised WESPA-approved official Scrabble Word List yesterday 2nd May 2019. The updated word list which according to the publishers is "the latest official Scrabble word list, endorsed by governing body WESPA for use in tournament and club play from 1st July 2019, contains all valid Scrabble words".  The list contains over 279,000 words approved for Scrabble.
According to Technical Director Faruq BabaInna, the Nigeria Scrabble Federation will adopt the new dictionary from July 1st 2019. The date also coincides with WESPA's official usage for international tourneys.
An Initiation Kit for the 2019 update is available on the WESPA website.
The new Collins word list aka CSW19 will be out in May 2019, WESPA Dictionary Committee announced recently. WESPA Chairman, Elie Dangoor confirmed that the guide date for adoption in WESPA related events is July 1st 2019 and member associations are 'free to choose their own adoption date, although we would expect them to comply for WESPA rated events, especially international ones'  in an interview on the WESPA website.
The Nigeria Scrabble Federation Technical Director, Faruq Baba-Inna has confirmed July 1st as the official adoption date for all Scrabble events in Nigeria.
A total of 2,862 (two thousand eight hundred and sixty-two) new words will be added into CSW19 while 29 words are to be deleted from the current (CSW15) list. The total number of words in CSW19 will be 279496 according to WESPA Dictionary Committee Chair, Darryl Francis in the interview. Dictionary Committee member, David Sutton confirms that an Initiation Kit will be made available in electronic (.pdf) form on May 2nd this year.
The new additions include 3 (three) new two-letter words like EW, ZE and OK and 6 (six) new three-letter words. EW (used to express disgust) and OK (all right) are adoptions from The Official Scrabble Players Dictionary 6th edition (OSPD6), while ZE (used as a gender-neutral third person) was adopted from the 2018 edition of Collins English Dictionary. According to Darryl, the new words are from three sources.
Collins English Dictionary (2018 edition)
The Official Scrabble Players Dictionary 6th edition (OSPD6)
The Official Tournament and Club Word List (2018 edition)
Sources : Collins Dictionary, Hasbro Scrabble Tools and  WESPA
The following players have been invited to the first of four Nigeria Scrabble Federation camping toward the WESPAC tournament holding in Goa later this year. They have until January 15, 2019, to respond and signify their intent to participate by contacting the National coach or the Technical Director.
Moses Peter - 1846 (African Champ, National Champion x 2 & WESPAC 17 Runner Up)
Olatunde Oduwole - 1829 (National Champion)
Wellington Jighere - 1791 ( World Champ, African Champ x 2)
Rex Ogbakpa - 1774 (African Champ)
Eta Karo - 1740 ( National Champion)
Cyril Umebiye - 1701
Dennis Ikekeregor - 1683 ( African Champ x 2)
Quickpen Ben - 1653
Enoch Nwali - 1653
Ezinore George - 1638
Tuoyo Mayuku - 1627
Godwin Victor- 1612
Raymond Gbaraba - 1602
Sule Success - 1256
Afolayan Bukunmi - 1193
Also, wildcards have been extended to the following persons
Oshevire Avwenagha - 1549
Nsikak Etim - 1521 ( African Champion)
Emmanuel Umujose - 1509
Ojior Osikhena - 1508
Doko Oluwatimilehin - WAUG 2018 Champ.
Schedule of activities
Date:  January 24 - 28, 2019.
Arrival Date: January 24, 2019.
Venue: NLNG Bonny
Number of games: 40
Round 1 - 2: SWISS Pairings
Round 3 - 34: Lagged Pairings
Round 35 - 40: KOTH Pairings
WESPA Rules Version 3 applies for the duration.
Important Notes
Nigeria currently has 9 slots meaning that the best female player automatically gets the 9th slot.
All players must remain in the top 13 positions after the cumulative 4 series and ratings respectively.
All invited players are to come along with their complete scrabble playing materials to include Scrabble Board, Protyle, Racks, Timer, and a conducive Tracker to record words and scores for verification purposes.
The cumulative performances in conjunction with the NSF Ratings will form a major part for a player to be selected.
All invited players are required to pay up their N5,000.00 annual license fee to be eligible to participate on or before Series 2 of the selection tournaments.
All invited players are to please be of good conduct throughout the duration of the qualifying series or risk the chance of being replaced.
Scrabble Meet Selection Series reemerges with Four Meets to be played between January – May 2019 with the following on the outlook:
The following Clubs/Associations have agreed in principle to collaborate and be the host.
NLNG – January 24 – 28, 2019.
Lekki Scrabble Club – February 14 – 18, 2019.
Shell Club/Total Club Collaboration – March 14 – 17, 2019.
Edo State Scrabble Association – May 1 – 5, 2019.
Hosting Clubs/States will be given a minimum of Four Wildcards. These wildcards will be extended to selected outstanding players in club retreats, tournaments, etc. All the 4 editions of the Scrabble Meet to be rated by NSF. Top 12 male and 3 female players will be invited for each of the Editions of the Scrabble Meet according to updated ratings. All invited players must attest to NSF Code of Conduct/Exclusive rules to participate at any of the Scrabble Meet Editions and must be fully licensed before they can participate. NSF to provide full media coverage.
After the 4th edition, the top 6 provided they remain in the top 10 after the rating must have been administered in cognizance with cumulative performances from the Four Editions and the 7th slot goes to the best female player to arise from the Series. May, June and July 2019 will be probationary test period for the 7 selected players (6 male & 1 female) that must keep their form or be replaced by the next in line player. Invited players to register with a token of N2,000.00 (optional) at the venue of each of the Editions. To qualify to represent Nigeria such a player must be consistent in the top 6 for Male Players as per NSF Ratings and cumulatively at the end of 4 Qualifying Scrabble Meet Series. The same applies to the top/most consistent female player.
The 7 qualified players selected will be on a probationary period of 3 months where their performances will be thoroughly monitored and their general conduct, carriage, and behaviour closely followed within the same period of time. Every other necessary means to check on the preparedness and abilities of the players will strictly be followed and implemented.
Prince Anthony Ikolo
National Scrabble Coach
Delta State overtook Edo State at the summit of the medals table by claiming Gold medals in the Masters and Open categories of the Men's Team event and a Silver in the Women's Team event to bring their tally to 4 Gold, 1 Silver and 2 Bronze medals (a total of 7).
In contrast, Edo State who also has a total of 7 medals was only able to add a Bronze medal to their tally today in the Open category of the Men's Team event. Edo finished in 2nd place with 2 Gold, 4 Silver and 1 Bronze medals. Bayelsa who could not add any medal to their tally in the Team events finished in third place with 1 Gold, 1 Silver and 1 Bronze medal. For the full medals table in Scrabble click here.
How they won - Team Event Results (Medalists)
Here are the results and (final round scores) for medalists only. For round by round results and statistics click here.
Women Team Event
| Rank | Player | Won-Lost | Spread | Last Game |
| --- | --- | --- | --- | --- |
| Rank | Player | Won-Lost | Spread | Last Game |
| 1 | Team Ogun | 9 - 1 | +1759 | a 101-100 WIN vs Team Edo |
| 2 | Team Delta | 7 - 3 | +1205 | a 242-100 WIN vs Team Fct |
| 3 | Team Oyo | 7 - 3 | +950 | a 394-100 WIN vs Team Rivers |
Men's Team Event - Masters
| Rank | Player | Won-Lost | Spread | Last Game |
| --- | --- | --- | --- | --- |
| Rank | Player | Won-Lost | Spread | Last Game |
| 1 | Team Delta | 8 - 2 | +674 | a 400-100 WIN vs Team Plateau |
| 2 | Team Plateau | 8 - 2 | +305 | a 100-400 LOSS vs Team Delta |
| 3 | Team Niger | 7 - 3 | +1161 | a 250-100 WIN vs Team Akwa-Ibom |
Men's Team Event - Intermediate
| Rank | Player | Won-Lost | Spread | Last Game |
| --- | --- | --- | --- | --- |
| Rank | Player | Won-Lost | Spread | Last Game |
| 1 | Team Kebbi | 9 - 1 | +1388 | a 249-100 WIN vs Team Fct |
| 2 | Team Lagos | 7 - 3 | +435 | a 172-100 WIN vs Team Akwa-Ibom |
| 3 | Team Rivers | 7 - 3 | +434 | a 101-100 WIN vs Team Plateau |
Men's Team Event - Open
| Rank | Player | Won-Lost | Spread | Last Game |
| --- | --- | --- | --- | --- |
| Rank | Player | Won-Lost | Spread | Last Game |
| 1 | Team Delta | 8 - 2 | +1123 | a 309-100 WIN vs Team Edo |
| 2 | Team Lagos | 7 - 3 | +890 | a 247-100 WIN vs Team Bayelsa |
| 3 | Team Edo | 7 - 3 | +369 | a 100-309 LOSS vs Team Delta |
Click here for full results and statistics.