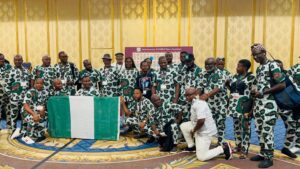 Nigeria completed her sojourn at the 2023 World Scrabble Championship in Las Vegas, Nevada, USA with a respectable fourth and second individual and team final position respectively. Thirty-two (32) preliminary games were played after which the top two players qualified for the best-of-seven finals. One hundred and thirty-five (135) players from twenty-nine (29) countries competed at the tournament.
(more…)
Senate President of the Federal Republic of Nigeria and Grand Patron of the Nigeria Scrabble Federation (NSF), Sen. Godswill Akpabio has charged members of Team Nigeria to the World Scrabble Championship in Las Vegas, Nevada, USA, to make the country proud at the event. He gave this charge to the team on Tuesday in his office when the team led by NSF President Engineer Toke Aka paid him a visit. (more…)
Members of Nigeria's squad to the forthcoming Scrabble World Championship holding later this month in Las Vegas, Nevada, USA, dominated the top places at the just concluded 3rd edition of Governor Douye Diri National Championship.
Las Vegas bound Enoch Tochukwu Nwali, dropped just three games to emerge champion after two days of grueling competition among the top 50 Masters players. He secured 12 wins and a cumulative points of plus 705.
Another member of Team Nigeria to the World Championship, Nsikak Etim who won the Engineer Toke Aka National Jubilee Championship and also the defending champion, came a close second with 11 wins and plus 726 cumulative points ahead of Emmanuel Ofidi who recorded 11 wins but with a lower cumulative points of 343.
Former World Champion Wellington Jighere who started the final day of the championship in the 36th spot navigated his way into the top ten. His 9 wins and a plus 580 cumulative points kept Jighere in the 9th position ahead of Doko Oluwatimilehin another member of Team Nigeria in the 10th spot with 9 wins and plus 576 cumulative points on the final table of the championship named after the current Governor of Bayelsa State, His Excellency Senator Douye Diri.
It is interesting to note that no player has been able to defend the Masters title successively. In 2021, Oshivere Avwenegha was crowded champion and a year later, he was dethroned by Nsikak Etim a former African Champion.
Enoch Nwali took the top honour this year along with half a million cash prize.
 Masters Category Top Ten
Enoch Nwali 12 wins +705
Nsikak Etim 11 wins +726
Emmanuel Ofidi 11 wins +343
Godwin Victor 10 wins +775
Wasiu Hassan 10 wins +355
Igali Precious 10 wins +255
Moses Peter 10 wins +254
Emmanuel Umujose 9 +658
Wellington Jighere 9 wins +580
Doko Oluwatimilehin 9 wins +576
The Opens title went to Clement Ijegbulem, Chuks Nwaeze came second while Tariyei Alari completed the podium in third place.
Ojior Osikhena who won the Veterans category in first edition of the championship, beat the 24 man field to take the Veteran top position in year's event. Azu Ogbogu and Dokun Esan were second and third respectively in the Veterans category.
John Adeleke won the Youth (students) category with 7 wins and plus 1221 cumulative points. August Shanon came second while Edide Pereowei came third.
Over three million naira was shared among the top ranked competitors in the tournament.
As reported by Maxwell Kumoye (NSF Media and Publicity)
The 3rd annual Governor Douye Diri National Scrabble Championship will hold in Yenagoa, Bayelsa State from the 8th to the 9th of July 2023.