The National Scrabble team led by the NSF President, Garba Gora successfully defended her 'Best Scrabble Team' trophy at the third edition of the WESPA Championship held in Goa, India. The Nigerian team had previously won the title at the inaugural WESPA championship in 2015 and successfully defended it at the last event in 2017.  Also, Nigel Richards (New Zealand) overcame stiff opposition from Jesse Day (USA) 4-3 in a gruelling seven-round final to join Jighere Wellington (2015) and Ashkay Bhandakar (2017/defending champion) as winners of the World English Scrabble Players Association (WESPA) Championship.
Nigeria Dominate Pre-Tournament Goa Open and the Indian Championship
Team Nigeria started brightly despite their late arrival to the tournament due to funding issues. At the 1-day pre-tournament (Goa Open) held on Wednesday 16th November, Nigeria's Emeka Mbagwu won the top prize, while Ojior Oshikhena and Jack Mpakaboari were first and second runners-up respectively. National coach, Anthony Ikolo and former president Toke Aka also picked the first and third-place prizes respectively in the A division of the Indian Open played from 18th to 20th November.
WESPAC Finals and Team Nigeria
In the main tournament, Nigeria was represented by Team Captain Moses Peter, former Champion Jighere Wellington, Olatunde Oduwole, Etim Nsikan, Dennis Ikekeregor, Ben Quickpen, Enoch Nwali, Eta Karo, Emmanuel Umujose, Bukunmi Afolayan (female) and Oshevire Avwenagha.  A total of 140 players from 32 countries participated in the tournament.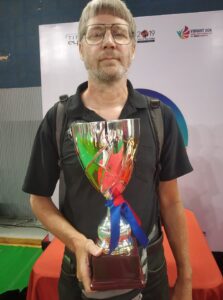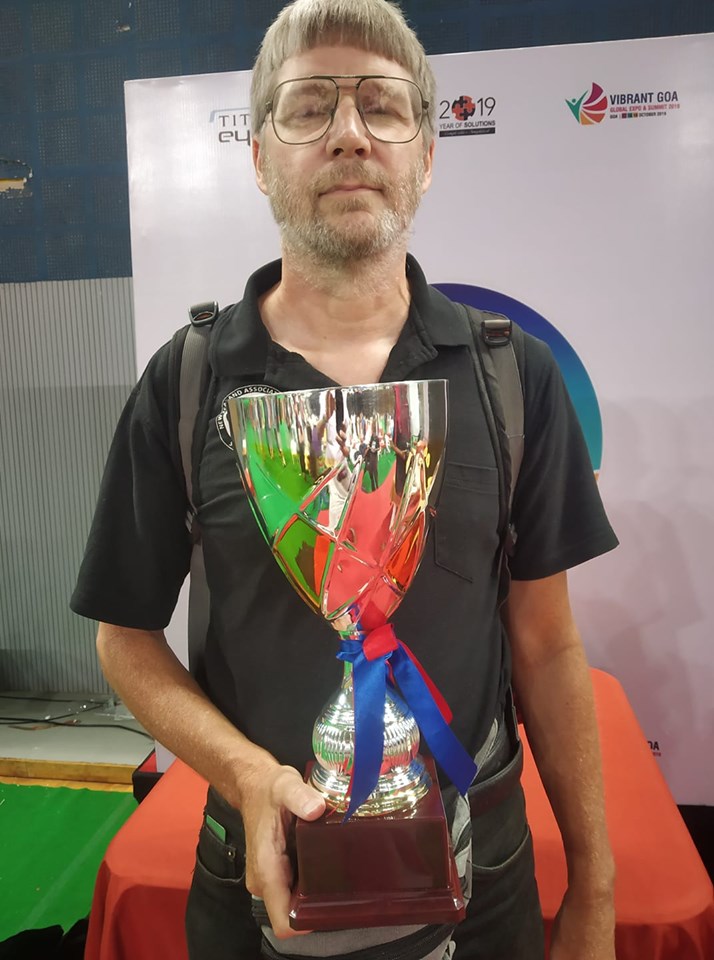 Acclaimed world best player, Nigel Richards triumphed after round 30 of the 32 game round-robin to qualify in style for the finals with two games to spare. Jesse Day later joined him in the finals, after subduing Oduwole (544-362) in round 31 and fellow American David Wiegand (520-328) in the final round. In the finals, Nigel Richards beat Day in the first (523-445) and second (424-403) rounds while the American hit back (459-363) in the third and (457-402) fourth rounds. Day won the fifth round (414-393) and Nigel had to dig deep for a 503-434 win in the sixth round to make the tally 3-3 and set up a nervy final round. Nigel Richard later won the 7th and final game 562-408 becoming the third winner from three different continents to win the prestigious title. Tacha Koowirat of Thailand finished in third place.
Overall team Nigeria put up a creditable performance at the main event with youthful Enoch Nwali who finished in 5th place at the forefront. The National Scrabble Team shrugged off stiff opposition from hosts India and the very strong Malaysia team to come first overall. The team finished with an average rank of 19.9 to finish ahead of India (25.4) and Malaysia (36.4) in the team (country) rankings.
Team Nigeria (Individual) Final Positions
Enoch Nwali - 5th
Ben Quickpen - 10th
Eta Karo - 11th
Olatunde Oduwole - 12th
Umujose Emmanuel - 16th
Dennis Ikekeregor - 23rd
Avwenegah Oshevire - 25th
Wellington Jighere - 30th
Nsikan Etim - 31st
Moses Peter - 36th
Bukunmi Afolayan - 58th
PANASA representatives and other Notable Performances
Other Pan African Scrabble Association (PANASA) members viz Kenya, Uganda, Sierra Leone and Ghana also had representatives at the championship. Kenya's Alan Oyende who finished in 17th place was the best-placed non-Nigerian PANASA member at the tournament. Nigerian-born Niyi Adebayo (117th) and Lukeman Owolabi (78th) played for Scotland and Ireland respectively. Teenage sensation Tarin Pairor (17 yrs) of Thailand who finished in 23rd place turned more than a few heads for his stellar performance at the tournament.
Photos